Ski season anticipation building with each fall dusting of snow
After last season – a dreadful 50-percent drop in average snowfall – there's understandably a lot of pent-up demand for a far more satisfying ski and snowboard experience. The snowmaking countdown is on in earnest, and people are snapping up season passes at a record rate.
After all, there's no way this coming season can be as bad as the one we experienced in 2011-12. Right?
Well, actually, it could be, but chances are it won't be. So the early shots of winter weather up high so far this fall are encouraging. Not quite cold enough to crank up the snow guns at perennial early-season, race-to-be-first resorts like Loveland and Arapahoe Basin. But we're getting close.
"[The forecast] did look good, but the temps didn't drop and there was a lot of moisture," Loveland marketing guru John Sellers said in an email Wednesday morning. "Hopefully soon!"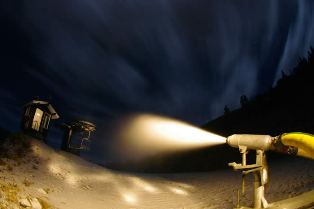 Loveland's countdown clock on its website Wednesday morning put first snowmaking at a half a day away. We shall see.
Arapahoe Basin COO and Vice President Alan Henceroth on Tuesday blogged about "another couple hours of winter weather. I had my first winter driving on Loveland Pass this afternoon. It was snowing heavily and the roads were wet with just a teeny bit of slush."
On Monday, after an initial dusting from this storm system, Henceroth wrote, "The next few days look kind of wet and cool, although not cold enough for snowmaking … Each of these fall storms gets us a few steps closer to [snowmaking]."
Vail Resorts on Tuesday saw its stock price shoot up despite an earnings report showing income sliding by more than 50 percent in fiscal 2012. Seems that figure actually beat expectations after the awful season of 2011-12.
Plus, according to the Denver Post, snow riders aren't expecting back-to-back debacles, snapping up seasons passes for 2012-13 at a record clip. According to the Post, VR has sold 178,000 early-season passes so far, a 17-percent increase over the same period last season.
But, if you're like me and you're still in cycling mode, this weekend looks to be high and dry – perfect timing for participants in the Tour of Vail Cycling Weekend.
That event is intriguing because it brings back old Coors Classic stages like the Vail Criterium. I reminisced about that event in a blog a couple of weeks ago. Personally, I'll be mountain biking down in Eagle all weekend, trying to get my legs in shape for a stellar early ski season (I hope).
---

6 Comments on "Ski season anticipation building with each fall dusting of snow"