Former Vail boss Aron brings same high-energy style to surprise 76ers squad
Win or lose tonight in game 7 of the second round of the NBA playoffs, the Philadelphia 76ers have enjoyed a surprisingly resurgent season. No small part of that rebirth has been the tireless efforts of team co-owner and CEO Adam Aron, who ran the show at Vail Resorts during a critical stretch from 1996 to 2006.
Aron brought a long and successful track record in the vacation-leisure industry to the table when he took over at Vail in the wake of the George Gillett era. He helped take the company public and shepherded it through a tough period of acquisition, expansion, community disenchantment, environmental protest and a costly arson attack.
He did so by engaging ski-town residents head-on (including newspaper reporters and editors), tirelessly attending community events, playing goalie in local hockey games and generally connecting with customers and constituents alike.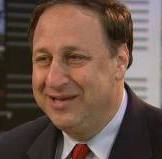 That seems to be Aron's
same approach
in Philadelphia, where he's revived pregame ceremonies in the team's formerly deserted arena, stirred up interest on Twitter and reached out to local fan favorites like Julius Erving and Allen Iverson, inviting the latter to a recent playoff game for an emotional introduction and tribute.
Aron is being realistic about his squad's chances tonight against the Celtics at Boston Garden. His last
tweet
spelled out the odds: "Still ballin' on May 26! Home team wins 80% of game 7 clashes. Will we defy the odds?"
As many Vail Valley residents will tell you, it's unwise to ever count Aron out.
---

16 Comments on "Former Vail boss Aron brings same high-energy style to surprise 76ers squad"