Steady snow seriously softens up Vail Mountain
It's been snowing all day in Vail, and my best guess is we got about 6 inches new as of 7 p.m. (I had a little over 4 on my deck in West Vail and it always snows a little more on the mountain). Even better news: it's still snowing and the lifts have shut down for the day. That means Sunday could be the closest thing we've had to a real powder day in weeks.
I spent this morning skiing at Vail, registering more than 10,000 vertical feet on mostly groomed runs with a couple-inch skiff of new snow softening everything up nicely. But as I passed a ski patroller at the top of the Back Bowls, I asked with a smile if a rope drop was imminent. She's probably still up there laughing.
As Vail Resorts CEO Rob Katz said Friday, this is the first time in the last 30 years that the Back Bowls have not opened as of Jan. 6. Just 80-plus inches of snow have fallen so far this season after a record 525 inches fell last season.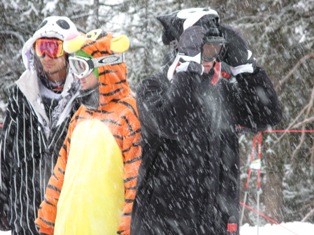 That being said, today was still my 20th at a Vail Resorts mountain (Vail, Beaver Creek, Breckenridge, Keystone) so far this season. Plus I've skied three more days at Copper Mountain, Arapahoe Basin and Telluride.
You may say I'm glutton for punishment, but not really. It just hasn't been that bad.
People keep telling me how icy it is out there, but I grew up skiing at a ski area in western Pennsylvania called Blue Knob, where you prayed a lot and tried to dig your edges into the equivalent of a vertical ice rink. We're talking actual blue ice.
I once slid the length of a run at Blue Knob in my super-slick 70s ski suit, leaving hats, mittens and goggles strung out behind me in a 500-vertical-foot yard sale.
Today at Vail would have been an epic day at Blue Knob.
Now before you start sending me hate email thinking I'm a Pittsburgh Steelers fan, know that my family actually lived in Washington, D.C. at the time (yes, we were Skins fans) and moved to Denver in 1979. I have been a Broncos fan ever since, and I'm pulling hard for Tebow Time tomorrow.
Especially if Tim will pray a bit for an end to the snow drought of the last month or so.
We are supposed to get some more snow on Wednesday, and our ski season can quickly turn around if we start getting productive storms every few days. Before we know it, this somewhat ugly early season may be a thing of the past.
For now, though, the stats don't lie. Vail only has 1,481 of 5,289 skiable acres open, 111 of 193 trails open and 21 of 31 lifts. And while last season I skied 49 days and probably only 10 of them weren't powder days, this season I've skied 23 days and would only count one as an actual powder day (a nine incher at Vail in December).
The vertical tale of the tape says it all. My 20 "days" at Vail Resorts mountains this season (most times I only go up for a couple of hours) have covered 115,146 vertical feet, or 5,757 vertical feet per day, according to EpicMix.
Vail is more than 3,000 vertical feet top to bottom, so you can tell I'm not doing that many runs. Last season I averaged much closer to 10,000 vertical per day because the snow was so much better. My 40-plus days covered more than 400,000 vertical feet last season.
But I've talked to plenty of people on the chairlifts this season who were overjoyed to have sunny days over the holidays, skiing well-groomed cruisers and staying relatively warm. A lot of them don't even know how to ski powder.
The lift ops and dishwashers here for the season don't want to hear that. They came here for low wages and days off filled with powder. I honestly feel bad for them. The other day I felt compelled to apologize to the tenants in my lock-off apartment in West Vail. "You should have been here last season," I told them.
But there's still plenty of ski season left, and ample opportunity to make up for lost time (and powder days). In my 20 years in Vail I have skied some of the deepest snow in March and April.
And now it looks as if the powder worm may have finally turned.
---

2 Comments on "Steady snow seriously softens up Vail Mountain"