Soaking up free music scene in Vail
My mantra in Vail has always been, "If it's free, I'll take three." But "Free" and "Vail" aren't two words you see used together all that often.
These days, though, free music festivals and events -- mostly underwritten by Vail Resorts -- are becoming staples in the bid to attract enthusiastic snow riders and visitors in general to the Vail Valley.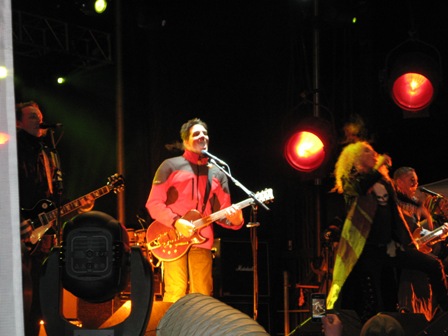 And in terms of quality, free doesn't always mean you get what you pay for.
For instance, the recent free Vail Snow Daze concerts featured some really good music for the low-low price of nothing, including Jakob Dylan one night and Yukon Kornelius another.
Yukon is a highly entertaining amalgamation of 90s jam-band rockers from groups like the Dave Matthews Band, Guster and Barenaked Ladies. Guest stars from bands like Pearl Jam, O.A.R., Fuel and Twisted Sister periodically hop up on stage during Yukon's rare concerts.
Part of the fun is guessing the guest stars, and this year's show led to rampant speculation. I heard everyone from Dave Matthews himself to Eddie Vedder mentioned as possible cameos.
In the end, I pretty much called it in a
blog post
beforehand who would hit the stage. The final guest star of the evening was Vail ski racer Lindsey Vonn on the cow bell – kinda fitting because she once won a cow in a World Cup race in Europe. It was sort of surreal to see Vonn rocking out with Twisted Sister's Dee Snider.
One thing that emerged from this year's Snow Daze event (one of the best on record, in my opinion) was just how seamlessly the new outdoor music venue at Solaris Plaza blends with the rest of Vail Village. It keeps the action close but doesn't clog up the commercial core.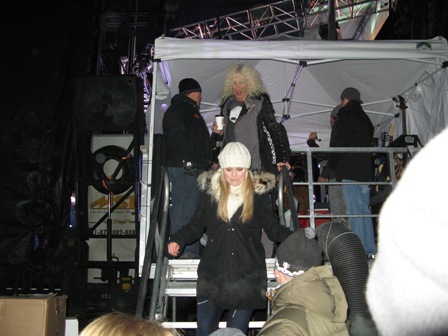 While the Yukon show was out at Ford Park, Dylan, Guster and other bands played at Solaris. The free shows keep rolling with the
Bud Light Street Beat
free concert series on Thursday nights throughout the rest of the ski season. The shows are put on by the Vail Valley Foundation.
Including last week's show, Street Beat features seven concerts at Solaris, one show at Arrabelle at Vail Square and one show at Golden Peak during the American Ski Classic in March.
This week,
Vail Family Holidaze
brings a host of free, family oriented music and events to town for the second straight year – giving holiday revelers plenty to do besides ski (a big plus in a low snow year like this one).
And finally, while it's far from free, a new event called
Vail New Year's Eve 2012
at Dobson Ice Arena, featuring DJ Logic and DJ Golden b, is an affordable alternative to the big cover charges a lot of local bars and restaurants charge to ring in the New Year.
So get out there, soak up the freebies, and pray for some freshies.
Editor's note: A version of this blog first appeared on
inspirato.com
.
---

70 Comments on "Soaking up free music scene in Vail"