Western artist Carrie Fell lands her dream gallery space in Solaris at Vail
Contemporary western artist Carrie Fell always had a vision of what her dream gallery space in Vail would look like. She sketched it in her journals and has long pictured the space in her mind's eye. She just never dared think it would be in the glittering new epicenter of Vail Village known as
Solaris at Vail
.
Calling it a "Cinderella" scenario that landed her prime gallery space on the second floor overlooking the ice rink and summer plaza area, the Denver artist is clearly ecstatic that her ultimate dream has come true.
"I think the Solaris space is wonderful," Fell said recently. "It's an area for the community to gather…and gathering places create energy and they instill love, encourage all kinds of new relationships and foster families coming to Vail."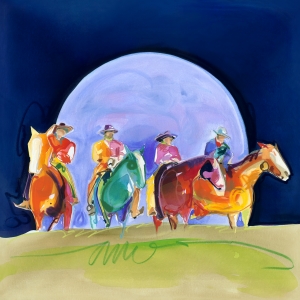 Fell was speaking during a fundraiser for a Vail childcare center called the Children's Garden of Learning, where she takes the time to visit the school and work with the young artists to create works that are then auctioned at her gallery.
"This space for me, it's going to hold lots of events like this," Fell said. "It's intended to do that, it's intended to mimic in a small way what Solaris wants to do, so I want a make it a nucleus of just a small element of what's going on downstairs."
Besides its public plaza, which will host a
free concert by Jakob Dylan
tonight, Solaris has Cinebistro movie theaters, stylish high-tech bowling at Bōl, and now a wide variety of new shops, restaurants and galleries.
Fell's boldly colorful New West style is a perfect fit for a building that seamlessly updates Vail's European mountain-village motif with a more modern, urbanized and classically contemporary style.
"Carrie Fell is an artist of the 21st century New West — just as Remington and Russell portrayed their New West in the 19th century,"reads her bio on
fineartworld.com
. "Her dramatic use of color and line give life and feeling to her faceless subjects, from longhorns to cowgirls."
Similarly, the Carrie Fell Gallery (website coming soon) will no doubt inject color and life into Solaris at Vail, which already has done the same for Vail Village.
Editor's note: A version of this blog first appeared on
inspirato.com
---

868 Comments on "Western artist Carrie Fell lands her dream gallery space in Solaris at Vail"