Storm surprises with 9 new inches of snow at Vail, 6 at Beaver Creek
I love it when the forecasters are wrong in the right way. Vail was only supposed to get a few inches of new snow Saturday night and into the day on Saturday, but wound up with 9 inches new on this morning's report (10 since Friday).
Saturday I wrote that Vail is still waiting on its first "big one" of the young ski season, and while 9 inches hardly qualifies as a monster storm, we'll take it after the relatively dry cycle we've been in the last few weeks.
Put it this way, it will be the closest thing we've had to a real powder day so far this season and should give mountain ops crews the ability to open up more trails and perhaps a couple of more lifts today. My hope is Game Creek Bowl comes online.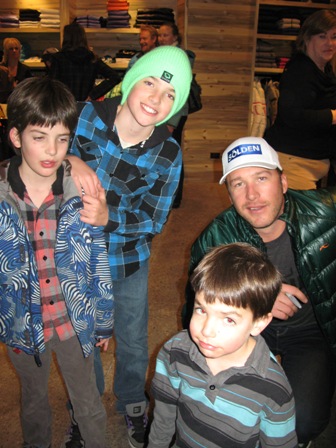 Beaver Creek reported a more modest 6 inches new (7 since Friday), which means course workers and volunteers will have a little less new snow to move to accommodate today's men's giant slalom on the Birds of Prey.
The first run was supposed to start at 9:45 a.m., but there could be some weather delays given the new snow. Still, it's a GS and doesn't require every single flake to be scraped away like a downhill. I'm pulling for Ted Ligety to duplicate his GS win from a year ago at Beaver Creek.
I skied the Beav on Saturday with my family, and it was one of those days where each run kept getting a little softer. There's not a ton of terrain open – 471 acres compared to 731 at Vail – and that's because mountain ops has been focused on this weekend's World Cup races. But what is open is in really nice shape, and most people were watching the races and not out skiing.
Saturday was my 10th day on skis so far this season at six different resorts (everything in Summit County plus Vail and Beaver Creek in Eagle County), and while it hasn't been nearly as stellar of an early season as we had last year (which was a record season), I've been really pleasantly surprised by the quality of the snow and the overall condition of the local mountains.
That's a testament to killer snowmaking and grooming crews, temperatures that have stayed cold throughout, and just enough natural snow to keep things in decent shape. But this morning (day 11), I have to say I'm pretty psyched for my first actual powder day of the season at Vail.
And Monday may be a good one as well. My favorite forecaster is only calling for 1-3 new from another storm rolling through tonight, but that's what he was predicting for Saturday. Let's hope he's wrong again in the right way.
Today I plan to get out early, make a few soft turns and be back home in time for kickoff of the Broncos-Vikings game (11 a.m., MST). Of course, if it's really good out there, I may have to catch the second half. After all, Tim Tebow doesn't really get going till the fourth quarter anyway.
---

4 Comments on "Storm surprises with 9 new inches of snow at Vail, 6 at Beaver Creek"