Sneak preview of Yukon Kornelius guest star lineup for Vail Snow Daze
Spoiler alert: Yukon Kornelius, playing a free show at Vail Snow Daze on Saturday, Dec. 10, is famous for its slew of unexpected guest stars. I have the inside scoop on who will join YK in Vail, but several of you have said you don't want to know until the night of the show. So stop reading now (and don't look at the picture posted with this blog).
Now, here's the lineup that I have confirmed so far: In addition to YK regulars Ed Robertson of Bare Naked Ladies (lead singer) and Stefan Lessard of Dave Matthews Band (guitar), YK's Vail show will include Dee Snider of Twisted Sister (return engagement from 09 Vail show); Marc Roberge of OAR (lead singer), Jerry DePizzo of OAR (saxophone); Rashawn Ross of DMB (trumpet); Mike McCready (pictured) of Pearl Jam (lead guitar); and Jason Biggs of "American Pie" fame on cow bell. Yeah, that's right, the guy who did the pie.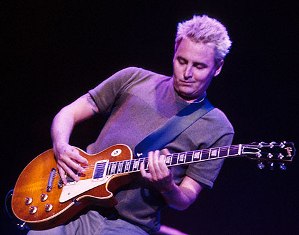 One or two other guests are possible, as if they would be needed with a lineup like that. Past YK cameos have included Steven Van Zandt (Little Steven of "Sopranos" and E Street Band fame) and Aerosmith guitarist Joe Perry. I'm not saying either will be in Vail; just that they've been known to jam with YK in the past.
Lit warms YK up, which may be necessary given the Ford Park location for this year's show. In 09 they played Dobson Ice Arena to rave reviews. Admission is free, as always, to all the Snow Daze shows, including Jakob Dylan on Friday, Dec. 9. But you still may want to pick up a Private Reserve pass.
According to an official Highline Sports & Entertainment release, "Private Reserve passes give holders access to preferred viewing of the stage in Ford Park, complimentary food and complimentary alcoholic and non-alcoholic beverages. The Private Reserve pass is the ultimate Vail Snow Daze concert experience, providing access to an exclusive area of the venue complete with outdoor heaters and close-in viewing of the main stage."
Private Reserve passes for the Yukon Kornelius concert are $95 and can be purchased through the Vail Box Office in Vail Village by calling (970) 845-8497. Click here for the full Vail Snow Daze lineup set for next week.
---

9 Comments on "Sneak preview of Yukon Kornelius guest star lineup for Vail Snow Daze"