Bode Miller helps unveil new Tommy Bowers Ski store in Solaris at Vail
Anyone from Aspen knows Tommy Bowers the man, not Tommy Bowers the store. The former U.S. Ski Team member's shop in Aspen is called Performance Ski and has been a fixture for 25 years.
When Bowers looked to open a Vail store 10 years ago, there was already a Performance Sports, so Bowers, a bit to his chagrin and at the urging of his wife, put his own moniker on the Vail store.
Now Bowers has opened a second high-end ski clothing store in Solaris at Vail. He'll keep the original Tommy Bowers Ski store on Hanson Ranch Road at the top of Bridge Street open until this spring.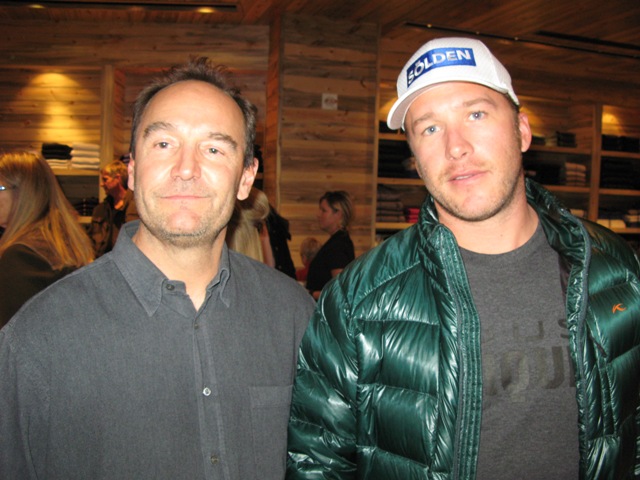 "I've been very pleased with our acceptance in Vail," Bowers said at a reception Wednesday night featuring the Lasse Kjus clothing line and one of its sponsored athletes, five-time Olympic medalist Bode Miller.
"We're an Aspen store and Vail and Aspen always had a great rivalry. I always was going crazy when Vail got more snow than we did, but for 10 years now I'm rooting for Vail to get more snow, or Aspen, it doesn't really matter. Plus I get really good ski reports [directly from the stores]."
Bowers is a fun-loving guy who sort of stumbled into the retail business after his racing days were done.
"I was racing with the U.S. team in Aspen -- not winning like Bode, but I was doing well enough to have a lot of fun and I was going to school at the same time," Bowers said. "It took me 10 years to finish college, and then I finished and I suddenly got booted from the team and I was like what the hell am I going to do?"
He clearly landed on his feet quite nicely in the ski-town retail scene.
"We're pretty quiet. We just sell good stuff and we choose very nicely and we've developed over the 10 years a very successful following [in Vail]."
Choosing the Kjus line, named after the Norwegian racing legend, was one of those good choices. It resulted in Miller, the most successful American male ski racer of all time, stopping by for Wednesday's event.
"He's a great guy," Bowers said of Miller. "He's got a lot of confidence. You see he exhibits a certain aura when he's on television and stuff, but when you're just with him he's a normal guy."
A normal guy who genuinely loves the Kjus brand and values its sponsorship. And Miller is not one to stretch the truth for the sake of political correctness.
"Kjus has been a long-term partner of mine and I've watched them grow and try to maintain their level of excellence, and a big part of that is having stores like this where it's a Kjus store and it might carry a few other really high-quality reliable brands," Miller said.
Miller landed the Kjus partnership when he broke away from the U.S. Ski Team and raced on his own for a couple of seasons.
"It's something Kjus and I have worked closely together on, and it's great to see people like [Bowers] who are really on the same page," Miller said. "They're not cheating in any way. They're 100 percent on board, they know exactly what they're doing and run a store exactly the way they should."
Miller adds it's not always easy to find such a good sponsorship fit.
"That's a really encouraging thing to see as an athlete when your sponsor can obviously drop the ball sometimes and other times they can do well, and this is one of those times when they've done a great job," Miller said.
For more information on Tommy Bowers Ski, call the Solaris location (141 E. Meadow Drive) at (970) 476-7439 or the 278 Hanson Ranch Road location at (970) 476-7566.
Editor's note: A version of this blog first appeared on
inspirato.com
.
---

202 Comments on "Bode Miller helps unveil new Tommy Bowers Ski store in Solaris at Vail"