U.S. Ski Team feeling right at home in Vail
Looks like members of the U.S. Ski Team may have more than a month to hang out stateside, train and get ready for World Cup races in Aspen Nov. 26-27 and Beaver Creek Dec. 2-4. The International Ski Federation (FIS) just announced that a lack of snow in Levi, Finland, led to the cancellations of men's and women's slalom races there on Nov. 12-13.
I don't know this for a fact but I'm guessing there's some celebration going on behind the scenes of the U.S. Ski Team, which is in Colorado training at Vail and Copper Mountain. Vail's own Lindsey Vonn has told me in the past that skiing in the World Cup opener in Soelden, Austria, in late October and then returning to the States and then heading back to Finland a couple of weeks later is a bit of a logistical issue and a grind for the athletes.
FIS officials are
expected to announce makeup dates
for Levi by Sunday, and obviously the easiest thing would be to simply tack a slalom onto the Aspen races for the women on Thanksgiving weekend and the men's races in Beaver Creek in early December. That would be preferable to giving them to a European resort, since so much of the World Cup season is held across the pond already.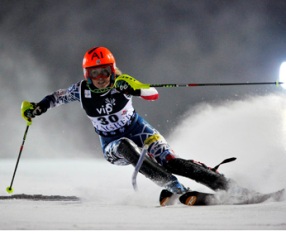 What would be really cool is if a North American resort that has never hosted World Cup racing or one that hasn't done it in a long time could get in on the action so that American or Canadian fans could get one more shot at checking out their favorite racers in person.
How about Copper Mountain, which has gone to such great lengths to set up the U.S. Ski Team speed center? Or Park City, home of Ted Ligety and a former World Cup stop that used to kick off the season every year? Or even back east, where early snow has allowed Killington and other resorts to open for the season already.
Vonn and Ligety, after just one race (Oct. 22-23 in Soelden) lead the overall World Cup chase. Neither of them are particularly dominant in slalom (Vonn has two career slalom wins and Ligety has six podiums but no wins in the event), but it would be nice to see them in action in any discipline.
This weekend represents a great chance for Colorado racing fans to meet Vonn, Ligety and other standouts like Bode Miller and Julia Mancuso. There has never been a more successful quartet of American ski racers than the four Americans, all of whom started training at Vail's Golden Peak on Wednesday and will be part of a season kickoff celebration at Vail's Mountain Plaza on Saturday.
Between them, Vonn, Miller, Ligety and Mancuso have won 88 World Cup races and 11 Olympic medals (four of them gold). They'll sign autographs, pose for pictures and chat up ski-racing fans starting around 2 p.m. on Saturday during what's been dubbed the "First Tracks U.S. Ski Team Announcement."
I was in Torino and later Sestriere, Italy, in 2006 when Vonn (then Kildow) crashed in training and missed out on her first real shot at Olympic glory. Those were the Games where Miller famously "partied at an Olympic level" and didn't medal in any of his five events.
Miller was leading in the combined event but disqualified in the second run of slalom, opening the door for then-21-year-old Ligety to grab the gold. Mancuso burst onto the scene at those same Games with a gold medal in the giant slalom.
Four years later I was there in the soggy slush of Whistler when Miller redeemed himself with a gold, a silver and a bronze at the Vancouver Winter Olympics. Vonn, who grew up racing for Ski and Snowboard Club Vail, delivered on her heavy favorite status in Whistler, earning a gold and bronze. Mancuso collected two more silvers. Only Ligety missed out on the medals last year.
But he and Vonn are coming off season-opening World Cup wins in giant slalom races in Soelden, Austria, last month, and they look to be primed for the coming season.
So is Vail Mountain after another pasting of 8 inches of new snow overnight Tuesday – the third in a succession of early winter storms that have the mountain in great shape more than two weeks from opening day on Friday, Nov. 18.
While snowmaking has been in full force for Ski Team members on Golden Peak for a couple of weeks, crews just started blowing snow on the Born Free trail in Vail's Lionshead area on Wednesday. That's typically the first run opened to the public each season, but a couple of more storms could guarantee considerably more terrain for opening day.
Forecasters are calling for another 4to 8 inches of snow Saturday, which means snow riders at the two nearby Colorado resorts opening for the season today – Copper Mountain and Keystone – could be greeted by some decent fresh snow.
In all, there will be four ski areas within about 45 minutes of Vail open for the season starting today. Loveland and Arapahoe Basin (which opened a top-to-bottom run on Wednesday) have been up and running since last month.
Eager snow riders who can't wait for the lifts to start turning have already been trudging up Vail Mountain on tele-skis with climbing skins and getting fresh tracks, although mountain ops crews warn people that extreme early season conditions exist and equipment can be encountered anywhere on the mountain.
Generally, they discourage the practice, but it's hard to hold back a summer's worth of pent-up snow-riding aggression — especially when so much fall snow is flying.
Editor's note: A version of this blog first appeared on
inspirato.com
.
---

2 Comments on "U.S. Ski Team feeling right at home in Vail"