Another sick early ski season at Vail? Snow Daze lineup a good sign
One of the better concerts I've seen in Vail in recent years was the 2009 show at Dobson Ice Arena by Yukon Kornelius, a collaboration of musicians from the Dave Matthews Band, Barenaked Ladies, Guster and Spymob.
I was hoping they'd make a return engagement, and two years later I'm getting my wish. Yukon Kornelius, named for a character in the classic cartoon TV movie "Rudolph the Red-Nosed Reindeer," plays a free show in Vail on Dec. 10 as part of the ski-season-launching Vail Snow Daze music festival. Guster plays a free show on Dec. 8, followed by Jakob Dylan on Dec. 9.
Vail Resorts underwrites the concerts to drive early-season interest and get people to town a couple of weeks before the holiday rush, and what better way to do that than offer free concerts with big-name acts.
Of course, fresh snow always does the trick, too, and Vail got plenty of that this week. More than a foot of new snow fell Tuesday and Wednesday at Vail and Beaver Creek, which open for the season Friday, Nov. 18, and Wednesday, Nov. 23, respectively.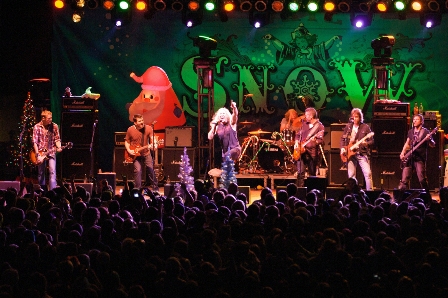 The two nearby ski areas already open for the season also
got pasted this week
, with Loveland enjoying 20 inches of new snow, and Arapahoe Basin (part of the Vail Resorts Epic Pass) receiving a foot new.
The guys from Yukon Kornelius – all avid snow riders – will love it if they find good early-season conditions in December. The group, made up of Adam Gardner of Guster, Ed Robertson of Barenaked Ladies, Stefan Lessard of the Dave Matthews Band and Eric Fawcett of Spymob, first came together for a 2008 Warren Miller ski movie, "Children of Winter."
"The whole thing with Yukon Kornelius is it's just a bunch of friends getting together to ski and play a little music and have fun, and that's the biggest reason why we do it every year," Gardner told me in a previous interview.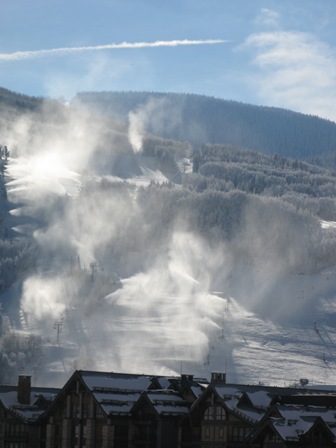 They're known for off-the-wall cameos, like the appearance by Twisted Sister front man Dee Snider at the Vail show in 2009. Just seeing who hits the stage with Yukon this year (do we have a Dylan sighting?) will be worth the price of admission, which as I've mentioned is zero. There are, however, some VIP packages that deliver access and other goodies that may well be worth checking into on the Vail Snow Daze website.
Generally, I don't push Wikipedia too hard as a research source, but go there if you want to check the Yukon set list at that Vail show in 2009. I wasn't taking very good notes. And also check out this video teaser from last year's Snow Daze celebration.
Editor's note: A version of this blog first appeared on inspirato.com.
---

5 Comments on "Another sick early ski season at Vail? Snow Daze lineup a good sign"