Beaver Creek starts snowmaking in anticipation of World Cup greatness
Beaver Creek officially started blowing snow for the 2011-12 ski season Tuesday – some of it for the pros and some of it for the rest of us recreational skiers.
Personally, I like to combine the two if conditions permit, skiing along the side of the famed Birds of Prey downhill course to watch racers like Bode Miller and the now-retired Hermann Maier catching massive air at the Pumphouse section.
It's fun to fantasize about going 80 mph on an icy track without actually having to do it.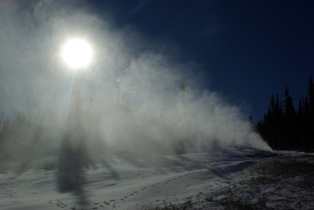 But conditions don't always permit such access and sometimes ski racing fans are relegated to the finish stadium, which has a Jumbotron and lots of cold beer and cowbells.
Snowmaking crews have been plastering a bit of manmade snow on Vail's Golden Peak training hill since last week, and this week Beaver Creek got in on the act by blowing snow on the Flyway section of the Birds of Prey course and also the lower beginner area called Haymeadow.
If temperatures stay as balmy as they've been, it's hard to say how much of that base will still be around when Beaver Creek opens more than a month from now on Wednesday, Nov. 23. Vail opens a few days earlier on Friday, Nov. 18.
But sometimes early season snow conditions can be quite remarkable.
The first season I moved to Vail in 1991, I got off a plane after an October rafting trip in Costa Rica and was skiing a foot of fresh powder on Vail Mountain on Nov. 6.
Sometimes, however, Indian Summer can linger all through November, and the powder faucet doesn't turn on till Thanksgiving. Then it seems like it doesn't stop until well into December.
As race crew members will tell you, if you want a powder day, schedule a downhill race.
Downhillers like it icy and fast. Just ask Miller, who's twice won the
Birds of Prey downhill
– the only men's World Cup races in the United States every year. This year the downhill is slated for Friday, Dec. 2, with a super giant slalom on Saturday, Dec. 3, and a giant slalom on Sunday, Dec. 4.
Miller, who broke out in a big way at the Vancouver Winter Olympics last year, winning a gold, a silver and a bronze, could be making his final trip to Beaver Creek, where's he also won the giant slalom. That in and of itself should mandate an early season visit to the Vail Valley.
Miller is many things to many people, but he is never boring – even as he gets up there in years for a ski racer (34).
Miller will be
in action this weekend
as the World Cup season gets under way in Soelden, Austria, with a women's GS Saturday and a men's GS on Sunday. Gold medalist Ted Ligety will be among the favorites On the women's side Vail's Lindsey Vonn and Sarah Schleper will compete, and Julia Mancuso will be among the favorites.
Miller, Mancuso, Vonn and Ligety will be
on hand in Vail on Nov. 5
for a celebration to kick off the season and introduce the team during regularly scheduled training at Golden Peak. Between them, the Americans account for 11 Olympic medals, four of them gold.
Generally, by the time World Cup weekend rolls around snow conditions can be surprisingly good at both Vail and Beaver Creek in early December.
The best part is the big holiday crowds haven't arrived yet, and there's a sense of solace and simultaneous anticipation for the coming season.
Editor's note: A version of this blog first appeared on inspirato.com
.
---

53 Comments on "Beaver Creek starts snowmaking in anticipation of World Cup greatness"