Ski season is upon us after sizzling falls temps just last weekend
Perfect weather for river restoration one weekend; full-on winter the next
I woke up this morning (Saturday) to another couple of inches of new snow on my deck in West Vail and more white stuff filtering out of the sky at a pretty good clip.
What a tale of two weekends.
Last weekend was a spectacular Colorado classic, with bright blue skies, golden, red and orange aspen leaves at their fall peak, and the green water of the Eagle River snaking its way toward its confluence with the mighty Colorado. My family and I spent the first half of the day on the banks of the Eagle, joining Vail Resorts employee volunteers in a river restoration effort.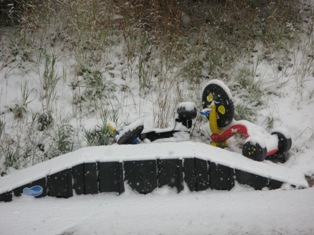 This weekend will say fall on the calendar but winter will be in the air. The leaves are dropping as fast as Republican presidential candidates, and all anyone in the high country can talk about is skiing. As a midweek storm system blew through, Copper Mountain started making snow Wednesday night, and nearby Loveland and Arapahoe Basin joined the fray Thursday afternoon.
Wolf Creek Ski Area in southern Colorado opened this morning after three feet of new snow on Thursday.
Vail and Beaver Creek are both well over a month away from their respective opening days on Nov. 18 and 23, but both local mountains are scrambling to roll out new amenities for the coming ski season. Vail will unveil a new sit-down, mid-mountain dining experience called "The 10th," and Beaver Creek is adding a new high-speed quad chairlift in Rose Bowl.
The latest weather reportedly isn't hindering either effort. "Rose Bowl is on track to open mid-December," Beaver Creek spokeswoman Jen Brown assures. That's good news for anyone who's a fan of runs like Ripsaw and Spider in Rose Bowl, but not so fond of the slow fixed-grip lift that used to served the area.
Snow riders are now in gear-acquisition and ski conditioning mode, which leads up nicely to the annual Ski and Snowboard Club Vail Ski Swap at Dobson Ice Arena in Vail Oct. 28-30. This is the biggie locally for snow riders looking to get the latest deals while benefitting an organization that's produced a slew of local Olympians.
Meanwhile, I haven't totally given up on summer. I hope it makes somewhat of a return so I can keep tuning up for the season on my mountain bike. Last weekend's river adventure – volunteers planted 280 trees and 220 shrubs along a 1.6 mile stretch of the Eagle – had me in the mood for a fall float trip along the upper Colorado.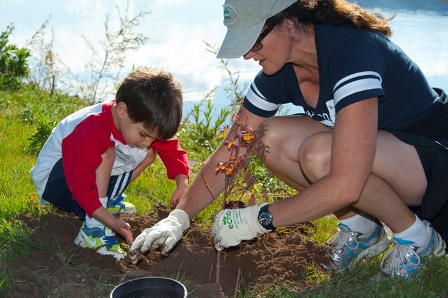 Such river trips this time of year aren't entirely out of the question on the dam-controlled Colorado River in the northwest corner of Eagle County. The fishing can still be good, and, of course, fly fishing along all the area's streams and rivers can be had all fall and into the winter.
Improving fish habitat was the main impetus for the recent and ongoing restoration project along a wide, slow-flowing stretch of the Eagle River in Edwards, where the Eagle River Watershed Council is trying to help the river flow faster, deeper and colder. Trees help provide shade and better bug habitat. Last weekend's event was the second annual Vail Echo Day.
And that's the never-ending cycle of life in ski towns. Ride all that frozen precipitation in the winter, then fish and float it in the spring, summer and fall.
Editor's note: A version of this blog first appeared on inspirato.com.
---

116 Comments on "Ski season is upon us after sizzling falls temps just last weekend"