Toasty temps, drought concerns prompt NOAA, Boulder water study of climate change impacts
Colorado's future looks extremely hot and dry if current climate trends continue, and the city of Boulder is being proactive in planning for more drought conditions, less water and a relatively crispy climate outlook all along the state's Front Range in coming years.
Prompted by severe drought conditions in 2002 that forced the city of just under 100,000 residents to implement tight water restrictions, Boulder teamed up with water experts and climate scientists from the National Oceanic and Atmospheric Administration (NOAA) to produce a new report entitled
"The Potential Consequences of Climate Change for Boulder Colorado's Water Supplies (pdf)."
"The Boulder water supply study highlights the inextricable connection between climate science and water management by providing climate scientists and water resource professionals with an opportunity to share their respective knowledge and translate it into the practical applied information -- information that engineers and water managers need to plan for the future," according to a NOAA article on the report.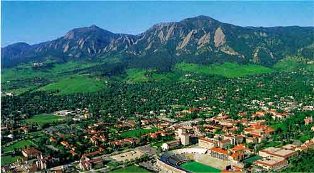 Boulder officials are now fast-tracking funding for water infrastructure projects, including a new water pipeline that will give the city more options for potential water sources and a dam rehabilitation project to enhance the city's water storage capacity.
Boulder and all of Colorado just experienced the
hottest August ever
, according to NOAA. So did fiver other states – New Mexico, Louisiana, Texas, Oklahoma and Arizona – and the average temperature in the United States in August was 3 degrees Fahrenheit higher that the long-term average between 1901 and 2000. Precipitation nationwide was .29 inches below the long-term average.
These statistics will no doubt provide ammo for supporters of two ballot questions in Boulder's Nov. 1 municipal election asking voters to essentially
approve a new municipal electrical utility
. Proponents of the plan to kick Xcel Energy to the curb say the state's largest utility is not shedding coal-fired power quickly enough.
More than half the electricity used in Boulder is generated by burning coal, which spews twice as much carbon dioxide as natural gas and up to 100 percent more CO2 than alternative energy sources like wind and solar. CO2 is the main component of greenhouse gases blamed for climate change, and Boulder officials have a goal of reducing those emissions to 1990 levels by 2012.
Xcel is on track to reach a state-mandated goal of producing 30 percent of its electricity using renewable sources by the year 2020, but coal will still make up 48 percent of the utility's power load.
The city of Boulder, where the mayor last year tied the devastating
Fourmile Canyon Fire to climate change
, is betting voters will prefer municipal management to the ongoing and heavy investment by Minnesota-based
Xcel in new coal-fired power plants
like Comanche 3 near Pueblo.
In July,
Standard and Poor's upgraded
outstanding bonds on Boulder's water, wastewater and storm drainage bonds from AA+ to AAA.
"With this AAA bond rating, Boulder places itself among the elite in the public sector," City Manager Jane Brautigam said at the time. "This is a testament to our utilities' sound fiscal policy and management practices as well as its strong outlook for future success and excellence in service delivery."
Xcel, on the other hand, recently saw Fitch Ratings assign a BBB+ rating to its issue of $250 million in notes.
According to the Associated Press
, Fitch was concerned about "Xcel's capital expenditure program of approximately $2.6 billion per year through 2015."
Editor's note: By 2020, Xcel projects it will produce 48 percent of its electricity from coal, 30 percent from renewable sources such as wind and solar, and 22 percent from natural gas. That is not a "vast majority" from coal, as this article previously claimed. Also, the bond rating standards for a public corporation are more stringent than for municipalities
.
---

22 Comments on "Toasty temps, drought concerns prompt NOAA, Boulder water study of climate change impacts"