State regulators hope to have new hydraulic fracturing chemical disclosure rule drafted this fall
Fracking remains contentious issue with mounting public concern about water contamination
Colorado's top oil and gas regulator says that this fall he hopes to have a new rule drafted mandating the public disclosure of chemicals used in the natural as drilling process known as hydraulic fracturing.
Whether it's called hydraulic fracturing, hydro-fracking or just plain fracking, the controversial but common drilling process remains the focus of intense public scrutiny and public awareness events from Colorado to New York, including a couple of unique fracking functions set for this weekend.
In Fort Collins on Saturday, Save the Poudre and the local chapter of the Sierra Club will host former U.S. Environmental Protection Agency (EPA) whistleblower Wes Wilson at the Fort Collins Brewery. Wilson pointed out the deficiencies in what many critics claim was a rushed and inadequate study of fracking prior to a Safe Drinking Water Act exemption for the process that was granted in the 2005 Energy Policy Act during the Bush administration.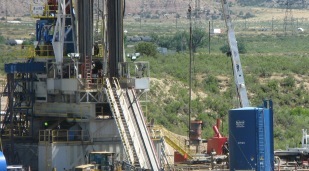 "Millions of gallons of fracking fluids are left underground," said Save the Poudre's Gary Wockner, according to the Fort Collins Coloradoan. "There's a long-term question about whether those will ever impact drinking water supplies or impact public health."
Also on Saturday, according to the Ithaca Journal, activists in upstate New York will hold a bike rally called the "Tour de Frac" to check out areas in the Finger Lakes region that will be impacted by fracking, which involves the high-pressure injection of water, sand and often undisclosed chemicals deep into gas wells to crack open rock formations and free up more gas.
Closer to home, David Neslin, director of the Colorado Oil and Gas Conservation Commission (COGCC), which regulates drilling in this state, recently told the Colorado Independent that he expects an independent review of the state's fracking regulations to be completed as early as next month. The study is being conducted by STRONGER (State Review of Oil and Natural Gas Environmental Regulations), and its results could be presented as soon as the COGCC's monthly meeting in October.
Neslin also said discussions have begun with industry and environmental representatives on a mandatory public chemical disclosure rule in Colorado that Gov. John Hickenlooper first floated at a Colorado Oil and Gas Association (COGA) meeting in Denver this summer.
Neslin said COGCC staff expects to have a draft rule ready for review by the commissioners this fall, with the commission hopefully taking action on it by the end of the year – a tight timeline but one that's reasonable given the other state rules Colorado can use as a model.
"A number of other states have adopted public disclosure requirements or are adopting public disclosure requirements," Neslin said. "Texas has a proposed rule; Louisiana has a proposed rule; Montana recently finalized a rule; Arkansas finalized a rule earlier this year; Wyoming has had a rule on the books for a year and a half.
"So there are a number of models we can look to, and we need to find the right fit for Colorado. We will do our best to craft a rule that's appropriate for Colorado, and it will be both effective and efficient."
Neslin has previously said regulators need to be diligent on a number of fronts because public disclosure of chemicals won't necessarily stop surface spills from potential holding pit leaks, pipeline leaks and faulty wells.
Conservation groups are closely examining state disclosure laws for loopholes that allow the industry to continue to keep certain chemicals secret for proprietary reasons.
Neslin said earlier this month that 20 Colorado operators are currently voluntarily participating on the Frac Focus website, which now has information posted on about 800 wells that have been facked so far this year in Colorado – or about 60 percent of all the fracked wells in the state.
Meanwhile, look for the sequel to the controversial but Oscar-nominated documentary "Gasland" to come out next year, according to the Fuel Fix blog. "Gasland II" is due out in 2012, according to HBO.
"What we've seen in the last few years, and I hope it's peaking, is a completely heightened public awareness around hydraulic fracturing and an increase in active opposition," COGA president and CEO Tisha Schuller reportedly said in a recent speech. "I hate to credit the movie Gasland, but it's really changed the conversation."

---

1 Comment on "State regulators hope to have new hydraulic fracturing chemical disclosure rule drafted this fall"