Moffet enters race for one of four Vail Town Council seats up for grabs Nov. 8
The Hawaiian shirt may be making a comeback on the Vail Town Council fashion circuit.
Former Vail Town Council member Greg Moffet, known for his brash style and bright shirts during two terms between 1999 and 2007, has officially thrown his hat in the ring to vie for a return to Vail Town Council.
There are four open seats, and Vail's Election Day is Nov. 8.
During his two council stints (he was term limited and could not run in 2008), Moffet, 53, points to the creation of Vail's gymnastics facility, Donovan Park and Pavilion, and the kick-off of numerous private and public redevelopment projects as council highlights.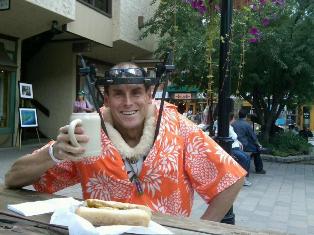 "During my time off of council, I've been able to see the town though a different lens," Moffet said. "My wife, Chris, and I are officially, as of this year, empty nesters with our two daughters in college. I would be honored if voters will allow me to return my passion for and focus to the community."
As president and owner of Tiga Advertising, which provides display advertising space on resort buses and in airports, Moffet is a self-described pro-business candidate, saying he well understands the complexities and uniqueness of Vail's resort-based economy because it is how he makes his living.
"I talk with merchants and business owners daily so I have a very real and immediate sense of what's working and why," he says. "Right now, we're seeing tremendous positive results from Vail's revitalization and a big year for Vail Mountain. But with the national economy still very volatile and unemployment high, we need to continue strong fiscal management, find a solution for Timber Ridge, and stay a step ahead of other resort towns – all while maintaining and growing socio-economic diversity in Vail."
Moffet has long been committed to bringing more families to Vail to live year-round: "I don't want to lose the soul that brought my family here permanently in 1994."
And then there's the lighter side of Moffet: "Council's fashion has slipped a bit since I've been off. Yes, the Hawaiian shirt will make a come back."
Moffet is currently serving on the Eagle County Planning Commission and the Vail Economic Advisory Council. He is also a member of Vail Rotary and was recently named to the board of Taste of Vail.
This summer he broke is neck in a cycling accident but is making a full recovery.
The four council seats up for election are held by Mayor Dick Cleveland, Andy Daly, Kim Newbury and Margaret Rogers. Three out of the four are eligible to run for re-election. Newbury is term-limited and can't run again. The terms of the remaining council members, Kerry Donovan, Kevin Foley and Susie Tjossem, run to November of 2013.
Vail voters will be using two ballots for the November elections that are being held on two different dates, Nov. 1 and Nov. 8.
Vail's regular election on Nov. 8 will be used to elect the four town council members and determine the outcome of a Conference Center Fund reallocation question, while the earlier election is for Eagle County and statewide initiatives. The town's Charter dictates Vail's regular municipal elections are to be held on the first Tuesday after the first Monday in November resulting in the need for separate Eagle County and Town of Vail elections this year.
Residents have until Oct. 3 to register to vote or update their address to be eligible for the Nov. 1 county and state election. The registration deadline for Vail's election is Oct. 9. Voters can register or update their existing registration at www.govotecolorado.com. Voter registration forms are also available at Clerk & Recorder offices and the Vail Town Clerk's office. Ballots cannot be forwarded, so voters who will be out of town should complete a mail-in ballot application indicating their temporary address by Oct. 25 for the Nov. 1 election and by Nov. 1 for the Nov. 8 election.
Ballots will be mailed to all registered voters the week of Oct. 10 for the county election which will be a mail-in election. For the Vail election, ballots will be mailed Oct. 27 for those who have opted to permanently vote by mail and for those who request a mail ballot. Voters who have not signed up to receive a mail-in ballot will have the option to participate in early voting which begins Oct. 27 and ends Nov. 4, or to vote at the polls on Nov. 8, where all voting will take place at the Vail Municipal Building from 7 a.m. to 7 p.m.
The sample ballot for the Nov. 1 mail ballot election is available for review on the Eagle County website at www.eaglecounty.us/Clerk/Voting_and_Elections/Upcoming_Elections/ and includes elections for Colorado Mountain College, Eagle County School District, the Fifth Judicial District and the State of Colorado. The sample ballot for the Nov. 8 election in Vail will be available on Oct. 14 once the field of Vail Town Council candidates has been certified.
For more information on the county election, contact the Eagle County Clerk election staff at 328-8715. For questions about the Vail election, contact the Town Clerk's office at 479-2136.
---

19 Comments on "Moffet enters race for one of four Vail Town Council seats up for grabs Nov. 8"