VR's Garnsey named to USSA Foundation's Board of Trustees
PARK CITY, Utah – Vail Resorts Co-President John Garnsey, a longtime industry leader, has been named to the U.S. Ski and Snowboard Team Foundation's Board of Trustees. The announcement was made today by the U.S. Ski and Snowboard Association's (USSA) President and CEO Bill Marolt.
Since starting at the Vail race department over 30 years ago, Garnsey's influence on ski racing helped establish Vail/Beaver Creek as one of the top ski racing venues in the world. His influence and the relationships formed in leading both the 1989 and 1999 FIS Alpine World Ski Championships played a key role in Vail/Beaver Creek being awarded the 2015 World Championships.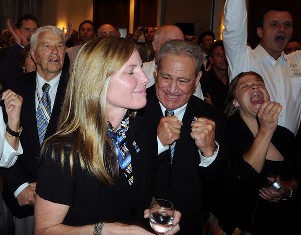 "John Garnsey has been a real difference maker for our sport," said Marolt. "His leadership with the World Championships and the annual Audi FIS World Cup at Beaver Creek have helped showcase our athletes and grow our sport. His passion and knowledge will be a great asset to our board."
Garnsey moved from New Hampshire to work in the Vail race department in the '70s. He joined the Vail Valley Foundation in 1984 and led the organization until moving to work for Beaver Creek in 1999. He was named Co-President of Vail Resorts in 2008. He is a longtime FIS technical delegate and served on the race jury at the 1998 Olympic Winter Games in Nagano. He is an active supporter of USSA programs and has played a vital role with Ski and Snowboard Club Vail.
Garnsey serves in numerous board positions including the National Ski Areas Association, Vail Valley Foundation, Ski and Snowboard Club Vail and Vilar Performing Arts Center. He is being inducted into the Colorado Ski and Snowboard Hall of Fame this November.
"The U.S. Ski Team has been a big part of my life in Vail and Beaver Creek," said Garnsey. "As we look forward to welcoming the world back to Vail/Beaver Creek for the 2015 FIS World Championships, I'm proud to have the opportunity to further help our athletes at all levels as a board member."
Garnsey and his family reside in the Vail Valley.

---

0 Comments on "VR's Garnsey named to USSA Foundation's Board of Trustees"
Be the first to comment below.