War on the outdoors: Pace says Tipton's assault on all things green a threat to recreation, tourism
The environment's relationship to the economy is a key theme for Sal Pace, minority leader in the Colorado House, as he challenges incumbent Republican U.S. Rep. Scott Tipton for a seat in Congress.
In an interview with The Colorado Independent, the Democrat rebuked Tipton's environmental record while accusing his opponent of putting corporate interests above those of American citizens.
"I don't think he is terribly concerned about our natural habitat and our natural environment and that has pretty severe effects on our economies," Pace said. "If Scott Tipton has his way and if his policies were to become law, communities like Gunnison or Steamboat that depend on recreation and tourism — which includes having clean water to raft in and beautiful mountains to ski on and an outstanding outdoors environment for people to mountain bike in — would be at risk. I don't see it just as some sort of theoretical debate of whether we should protect our environment. I see this as a pretty clear-cut debate on whether we are going to protect our economy on the Western Slope or not. Scott Tipton doesn't seem very concerned about fighting to protect our outdoor recreation-based economies."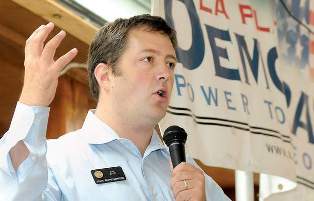 Messages left for Tipton's spokesman were not returned and previous requests for a rebuttal to environmental groups who have sharply criticized the congressman's record have gone unanswered.
Pace specifically called out H.R. 1581, the Wilderness and Roadless Area Release Act, that Tipton and 30 other GOP congressmen are co-sponsoring, including Colorado Reps. Doug Lamborn and Mike Coffman.
"It's a giveaway of 16 million acres of pristine wildlife habitat," Pace said. "Currently 76 percent of our National Forests and BLM lands are open to development. This would be giving a blank check to corporations on our public lands and would threaten our water supplies. By opening up an area the size of Wyoming, H.R. 1581 poses a real threat to clean water in many parts of the country and clean air could also suffer because these wild lands play a critical role in filtering pollution and providing clean air to millions of Americans. Scott Tipton seems like he is more beholden to major corporations than he is to the citizens of the United States. These areas, these wilderness study areas and these inventory roadless areas, all over CD3 are supported by local counties, local county commissioners and by local elected officials. Scott Tipton, by taking a federal one-size-fits-all approach, is taking a position in direct contradiction to the position that maybe a dozen counties on the Western Slope have taken."
Although he wouldn't support H.R. 1581 "under any circumstances," Pace said he is unsure if he fully supports the Colorado Roadless Rule, which a cross-section of groups have worked on for six years. He did, however, deem it as a superior piece of legislation in comparison to H.R. 1581 and he noted that it has drawn support from former Colorado Gov. Bill Ritter as well as conservative groups like Club 20. In fact, one of his biggest critiques of H.R. 1581 is that it would undo the work put into the state rule.
Tipton, meanwhile, has defended his support of H.R. 1581 by saying the "bill will release the wilderness study areas which were recommended as not suitable for wilderness designation by the land management agencies with jurisdiction over those given areas." The congressman also previously told the Colorado Independent that the state-specific roadless rule would prevent too much access to forests.
"While the rule, in large part, addresses the need for access and use in lower tier areas which was absent in the 2001 rule, the implementation of 'upper tier' areas could have serious consequences for our ability to maintain healthy and secure ecosystems and to provide fire mitigation to ensure safety and to prevent the loss of life," Tipton said of the Colorado Roadless Rule.
Pace also blasted Tipton's endorsement of an "all of the above" strategy for energy production.
"It's sort of a rhetorical position he's taken where he's saying 'all of the above' but in reality he only means certain types of energy," Pace said. "He's never done anything to push forward renewable energy or wind or solar or to encourage alternative means of energy development."
Informed of H.R. 2842, aka The Bureau of Reclamation Small Conduit Hydropower Development and Rural Jobs Act of 2011, which Tipton introduced last week, Pace said he was unaware of it. The bill would "authorize all Bureau of Reclamation conduit facilities for hydropower development."
"My concern is that hydro should be done in a way that it doesn't affect stream quality, water quality and doesn't impact the natural habitat of the watersheds," Pace said.
The state House minority leader said he favors hydropower that has low environmental impacts. He pointed to Lake Pueblo as an existing facility that is suitable for generating megawatts of hydropower.
"I think we should have balance," Pace said. "We can have natural resource extraction like mining and drilling but we also need to have hiking and fishing and kayaking and skiing and rock climbing and mountain biking. We have to have a balance. Tipton only believes in one extreme end of the spectrum."
---

2 Comments on "War on the outdoors: Pace says Tipton's assault on all things green a threat to recreation, tourism"