Study questions 'out-of-whack' costs of proposed Flaming Gorge water pipeline to Colorado Front Range
It's not exactly Perrier-pricey, but pretty damn close, according to opponents of the massive proposed Flaming Gorge pipeline project that would pump water out of the Green River in southwest Wyoming and suck it back over the Continental Divide to Colorado's Front Range.
Fort Collins developer Aaron Million recently revised his plans for the project and re-filed with the Federal Energy Regulatory Commission (FERC), according to the
Fort Collins Coloradoan
. Million had been seeking approval of the project from the U.S. Army Corps of Engineers but switched regulators this summer because he's now including 550 megawatts of hydroelectric power.
His original plans called for moving 250,000 acre feet of water through a 500-plus-mile pipeline along Interstate 80 and then down the Front Range of Colorado – a private project the state estimates could cost between $7 billion and $9 billion.
The new plan is called the Regional Watershed Supply Project, and it has garnered opposition all the way from the southwest Wyoming towns of Green River and Rock Springs to Colorado's populous Front Range, where conservation groups say it would be far too costly both economically and environmentally.
A report authored by economist George Oamek and released Tuesday (pdf) found that Flaming Gorge pipeline water would cost up to $4,700 per acre-foot compared to other proposed water diversion projects that would come in at around $700 per acre-foot.
The Colorado Water Conservation Board at its meeting in Grand Junction next week is expected to vote on whether to spend $150,000 on a task force to study the Flaming Gorge pipeline. A group of water users on Colorado's Front Range also has proposed a similar pipeline project.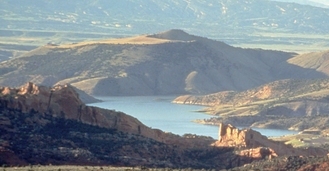 "The proposed task force would squander taxpayer dollars," said Elise Jones of the Colorado Environmental Coalition. "The state of Colorado should be looking at projects that are affordable, viable, and collaborative, not spending money on gold-plated pipe dreams."
Million first floated the Flaming Gorge idea in 2007, making the case that Colorado has the right to up to 250,000 acre-feet of the Green River under the Colorado River Compact because the river twists through northwest Colorado before ultimately flowing into the Colorado River in Utah.
But Oamek estimates southwest Wyoming could take a more than $58 million a year hit to its outdoor recreation industry if the pipeline is ever built. Not surprisingly, residents of that part of the state are mostly dead-set against the project. Million, however, has wooed eastern Wyoming residents, promising some of that water could come their way as it flows to the much thirstier Front Range of Colorado.
The editorial board of the Casper Star Tribune was not impressed:
"If there's not enough water to support the current rate of population growth along Colorado's Front Range without importing it from elsewhere, perhaps development should be slowed. At the very least, it would be nice if Colorado kept its internal water worries to itself."
Editorial writers at the Pueblo Chieftain in southern Colorado, however, seem to love the idea.
"There's growing support for the concept to pipe water from Flaming Gorge Reservoir across southern Wyoming and down the Front Range of Colorado. But impediments are being mounted. Various environmental groups are opposing even a study of the proposal.
"If the enviros are so concerned about the environment, let them visit Crowley County, where the loss of most of its water has turned huge swatches of formerly productive farmland into a giant weed patch. Do they want more of that? We certainly hope not."

Follow David O. Williams on Twitter.
---

40 Comments on "Study questions 'out-of-whack' costs of proposed Flaming Gorge water pipeline to Colorado Front Range"