On Fourmile Canyon anniversary, Colorado officials warn wildfire season can last deep into fall
Perry blasts feds for handling of Texas fires despite state firefighting budget cuts
Despite the recent round of wet weather in Colorado – including some snow above 12,000 feet – Colorado politicians and fire officials warned fall can be one of the most active seasons for wildfires. Like Texas, southern Colorado is suffering through brutally dry conditions.
"We shouldn't let the recent cool weather fool us; fall wildfire season is upon us again, and this year's extremely dry weather -- particularly in drought-stricken southern Colorado -- means it's important to be especially vigilant," Colorado U.S. Sen. Mark Udall said Tuesday in a release commemorating the one-year anniversary of the Fourmile Canyon Fire near Boulder.
That blaze destroyed 169 homes -- including one owned by Vail Town Manager Stan Zemler -- and is the costliest in Colorado history in terms of property damage. Udall at the time called for a federal investigation of how the fire was handled, and the Boulder mayor placed some of the blame on global warming and the state's ongoing mountain pine bark beetle epidemic that has left millions of acres of trees dead or dying.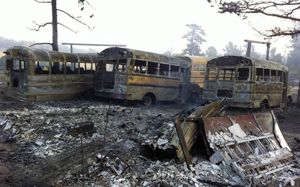 "After touring the site last year, I was struck by the fire's intensity and the heartbreaking loss of property," Udall said Tuesday. "My thoughts are with the victims of the fire, many of whom are still struggling to recover."
Gov. John Hickenlooper also warned that the state is still susceptible to devastating wildfires this time of year. Colorado's Front Range just experienced one of the hottest and driest Augusts on record.
"The Fourmile Canyon Fire in Boulder County, which started on Labor Day last year, is a haunting reminder of the impacts wildfires can have on our natural resources and communities," Hickenlooper said.
Meanwhile, Texas firefighters are still struggling to cope with the worst wildfires in that state's history. According to ABC News, more than 1,000 homes have been destroyed and four people have died as winds from Tropical Storm Lee whipped up massive walls of flames over the weekend.
Despite the ongoing disaster, Texas Gov. Rick Perry's aides told ABC he will participate in tonight's Republican presidential debate at the Ronald Reagan Presidential Library in Simi Valley, Calif.
Scientists warn that extreme drought conditions and weather events will become more common as the planet continues to warm, but Perry has emerged as the GOP frontrunner for the 2012 nomination by casting doubt on global climate change science.
Perry on Tuesday also took a jab at the Obama administration's response to the fires in his state, meanwhile failing to mention the draconian cuts he and Texas state lawmakers have made to funding for state firefighting.

Follow David O. Williams on Twitter.

---

92 Comments on "On Fourmile Canyon anniversary, Colorado officials warn wildfire season can last deep into fall"