Elephant Energy hopes to soar like an eagle delivering Nokero light bulbs to Navajo Nation
Companies seek inexpensive solar solutions to kerosene problem in Four Corners area
Doug Vilsack knows that finding third-world poverty and a lack of connectivity to the electrical grid in modern America might be about as shocking to some people as finding elephants wandering the Navajo Nation in the Four Corners region of Colorado, New Mexico, Arizona and Utah.
So when Vilsack's Denver-based sustainable energy non-profit Elephant Energy researched the situation on the Navajo Nation last year, discovering dangerous kerosene lanterns and heaters and more than 18,000 households completely off the grid, they changed their name to Eagle Energy in the Four Corners area.
Originally founded to
provide similar products
in Namibia, Eagle Energy is now working hard to deliver solar light bulbs from
Denver-based Nokero
[No Kerosene] and other sustainable energy products to the Navajo Nation – all the while hoping to stimulate the small-scale entrepreneurial companies offering such services.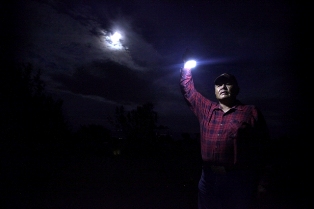 "Yeah, many Navajo people are still using kerosene," said Vilsack, a Colorado College and University of Colorado graduate whose father is Agriculture Secretary Tom Vilsack. "Most people still don't have heating. They're using wood for energy. There's just a huge need for even these really small-scale technologies to get rid of this kerosene problem on the Navajo Nation.
"It's a stunning thing to be happening here in our own country."
Vilsack formed Elephant Energy three years ago to improve the quality of life in Namibia, where only about 15 percent of the rural population is connected to the electrical grid. Kerosene is a potentially toxic fuel source that presents numerous health problems, including the very real risk of household fires. An attorney, Vilsack was doing some work on the Navajo Nation when he noticed similar conditions there.
He said there are several barriers to connecting the estimated one-third of the Navajo Nation households that are off the grid – most of them having to do with expense and geography – but he adds that alternative energy products may hold the best hope for short-term relief.
"There should be a lot of money put into larger scale [solar] systems on people's houses down there, but you have to start somewhere, and if it's with a $5 or $10 solar-powered light bulb, you can accomplish a heck of a lot with that," Vilsack said. "With one of these bulbs at least you can go a long way toward removing the need for people to go buy kerosene at Wal-Mart."
Adella Begaye, a Navajo Nation nurse, said she started working as an interpreter for the Indian Health Service when she was a teenager in the 1970s. Back then, she said it was very rare to see patients with asthma or other respiratory diseases. Now it's common.
Begaye, also a community advocate with
Diné CARE
, points to the large coal-fired power plants built in the region in the 1960s and 70s. She sees the irony in so many people living so close to huge power plants but completely off the grid.
"I know the statistics are pretty high," Begaye said of the lack of connectivity, "and the sad thing is there's a lot of people that live right in the vicinity of these big power plants and they do not have electricity. And the health impact is worse. Not only is it asthma, it's cardiac problems and just having a hard time breathing. Of course it affects your heart."
The U.S. Environmental Protection Agency
recently issued an order
compelling PNM's 1,800-megawatt, coal-fired San Juan Generating Station 15 miles west of Farmington, N.M., to reduce nitrogen oxide emissions by 80 percent in the next five years.
The company is fighting the decision because of what it deems the unnecessary costs, but the EPA cited air-quality and health concerns on the Navajo Nation as well as adverse impacts to nearby national parks and monuments such as Mesa Verde National Park in Colorado.
Late last month it was revealed that the state of
New Mexico fined PNM $125,000 (pdf)
for six major air pollution violations at the San Juan plant over the course of the last year.
---

15 Comments on "Elephant Energy hopes to soar like an eagle delivering Nokero light bulbs to Navajo Nation"