USA Pro Cycling Challenge officials estimate final stage crowds of more than 250,000
CEO Hunter: 'We will be back and we'll be even bigger next year'
Organizers of the inaugural USA Pro Cycling Challenge estimated more than 250,000 people turned out for today's final stage that saw American Levi Leipheimer take home the first overall title.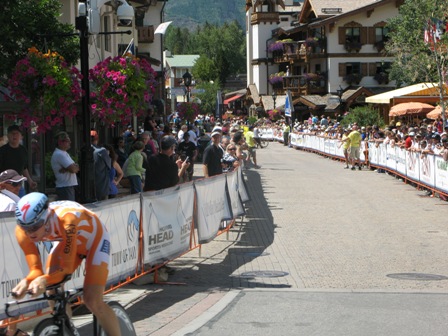 "I just spoke to [USA Cycling CEO] Steve Johnson and he said the crowd was the largest he'd seen in any stage race in U.S. history; that makes this a great first-year event," said Shawn Hunter, co-chairman and CEO of the USA Pro Cycling Challenge.
"We're excited for the state and for the communities we visited and passed through over the last week," Hunter added. "We will be back and we'll be even bigger next year."
Vail Police Chief Dwight Henninger estimated 27,000 spectators watched Thursday's pivotal Stage 3 time trial in his city, calling it, "A great day for Vail. The crowds had a great time and the weather was great too."
Even Leipheimer, used to massive crowds at the Tour de France and a winner of both the Tour of California and the Tour of Utah, seemed blown away by the turnout in Denver, where he finished seventh in the 73.8-mile Stage 6 from Golden to Denver and held off his closest challengers for the overall title.
"It's hard to put into words and to describe the emotion and experience that I've had this week," Leipheimer said. "Today has been the biggest crowd that I've seen in the U.S. and that is really saying something.
"This race really raised the bar for American cycling," Leipheimer added. "This victory means so much to me because of the way we raced this week. It took every ounce of energy and motivation we had to pull it off."
He said he will definitely return to defend his title next year.
Fans lined up 5 to 10 deep along the entire route today as the final stage started in Golden, went up and down Lookout Mountain and concluded in downtown Denver with six laps of a nearly five-mile circuit around the Colorado State Capitol Building.
Organizers were expecting more than 1 million spectators over the seven days and 518 miles of racing action from Colorado Springs to Crested Butte to Aspen to Vail to Steamboat Springs to Breckenridge and ultimately Denver.
---

30 Comments on "USA Pro Cycling Challenge officials estimate final stage crowds of more than 250,000"