Vail Daily launches new weekly ahead of next week's 'Sneak Peak Vail'
A new weekly newspaper launching in Vail next week already has competition in the form of a preemptive publishing strike from Vail Daily Editor and Publisher Don Rogers, who tells the Colorado Independent he already launched his own new weekly Thursday afternoon.

"Ours came out yesterday afternoon," Rogers said in an email. "It's a weekend fun guide, basically. So Erin's deal actually is following us, as it turns out. I believe she's a week away from launching still."
Erin Chavez, former associate publisher of the Vail Mountaineer, told Jason Salzman's Big Media blog that she's launching a weekly called "Sneak Peak Vail" that will be "more lifestyle-oriented, not based on news in the Vail Valley, but more of what is going on and applying it to second home owners and locals." She said it debuts on Thursday.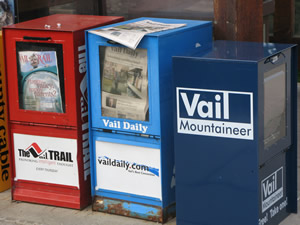 The pro-business Vail Mountaineer, along with the Denver Daily News, was shut down in June by Vail Daily founder Jim Pavelich, who started the Mountaineer in 2008 after his non-compete with the Vail Daily expired. Some critics and former business partners have accused Pavelich of not making news his top priority.
Rogers said his new weekly, which is being called the "Vail Daily-Weekly," also will have a somewhat light format.
"This one is a low-cost, low-price compilation of what we already have in entertainment and activities for visitors who didn't read the Daily earlier in the week and locals looking for a reminder of the fun stuff the valley has to offer," Rogers said. "Basically this is a free-standing entertainment guide that many papers just a little larger than us put out. Greeley and Carson City [where the Vail Daily parent company also owns papers] have similar pubs."
Asked why the Vail Daily isn't resurrecting the name of the Vail Valley's dominant weekly for decades, the Vail Trail, Rogers said it was considered. Colorado Mountain News Media, the Vail Daily's parent company owned by Reno, Nev.-based Swift, purchased the Vail Trail in 2004 and shut it down in 2008. The Trail was Vail's first newspaper, founded in 1965, and briefly published a competing daily called the Daily Trail from 1998 to 2000.
"Thought about bringing back the Trail name, but this publication is different than the heritage, history and local news for locals that I think the Trail stood for.," Rogers said. "The Trail likely would still be rolling without the combination of recession and need to focus on the competing daily at the time [the Vail Mountaineer]."

---

33 Comments on "Vail Daily launches new weekly ahead of next week's 'Sneak Peak Vail'"