Leipheimer leaps back into USA Pro Cycling Challenge lead with new course record at Vail time trial
In a race against time, time trial specialist Levi Leipheimer (USA) of Team RadioShack narrowly edged out fellow American Christian Vande Velde today by .58 seconds in a steep, 10-mile uphill dash from Vail Village to Vail Pass to reclaim the overall lead in the USA Pro Cycling Challenge.
Leipheimer, who won the Challenge's first stage from Salida to Crested Butte, set a new course record today in 25 minutes, 47.08 seconds. Garmin-Cervelo's Vande Velde, who said earlier in the week today's Stage 3 time trial would be crucial, came in second in 25:47.66, and Rafael Infantino (COL) of UNE-EPM was third in 25:51.52 seconds.
A familiar route for many local cyclists, the previous course record of 25 minutes and 48 seconds was set by Ben Day at the 2008 Teva Mountain Games. That mark wouldn't stick, though, as both Leipheimer and Vande Velde's times would be good enough to take over the title.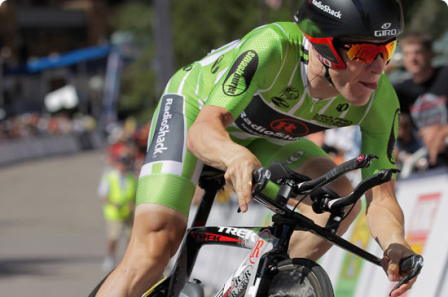 "You never expect a race to be that close," said Leipheimer. "I definitely expected Christian to be my strongest competitor. We're very motivated. I gave up the Quiznos Leader Jersey once and I don't really want to give it up again."
Vail Police estimated a crowd of 27,000, mostly concentrated in Vail Village and along the final kilometer toward the finish on Vail Pass.
Under blue skies and beautiful weather, the riders left one by one from the start gate at the center of Vail Village. Jason McCartney (USA) of Team RadioShack kept the lead for the first hour of the day with a time of 27 minutes and 26 seconds until Dave Zabriskie (USA) of Garmin-Cervelo took over the lead and posted a time of 26 minutes and 46 seconds. Eventually, Prologue winner Jason Gretsch (GER) of HTC-Highroad slipped into second, 29 seconds behind Zabriskie, but was soon replaced by Jens Voigt (GER) of Leopard Trek.
As the stage wore on, Infantino took over the top spot, but was soon knocked out by Vande Velde, who set a new time to beat. Ultimately, Leipheimer took the stage win, besting Vande Velde by only a fraction of a second.
"It was really heartbreaking," said Vande Velde. "I had this stage picked out a few weeks ago. I know this road and it suits my characteristics really well. It's hard, but I am happy with the way I'm riding and I'm happy to be back in contention to win the USA Pro Cycling Challenge."
Due to his performance today, Leipheimer will re-claim the overall lead with a total time of 10 hours, 30 minutes and 29 seconds and will wear the Quiznos Leader Jersey heading into Stage 4 of the race. Vande Velde is in second with a split of only 11 seconds, and Tejay Van Garderen (USA) of HTC-Highroad sits in third place, only 17 seconds behind Leipheimer.
The Stage 2 overall leader Van Garderen was sixth today.
"The time trial today in Vail challenged the cyclists and provided a great show for the wall-to-wall spectators that were out on the course," said Shawn Hunter, co-chairman and CEO of the USA Pro Cycling Challenge. "With the overall results so close, we have a lot of great racing ahead of us. This is still anyone's race. Like the rest of the fans here in Colorado and around the world, I'm looking forward to seeing who is crowned champion of the inaugural USA Pro Cycling Challenge on Sunday in Denver."
Leipheimer re-claimed the Quiznos Leader Jersey and retained the Smashburger Sprint Jersey. Van Garderen kept the Sheets Best Young Rider's Jersey for the fourth straight day. The Nissan King of the Mountain (KOM) Jersey was awarded to Walter Pedraza Morales (COL) of UNE-EPM. And the Exergy Most Aggressive Jersey went to Andre Steensen (DEN) of Saxo Bank SunGard.
STAGE 4 TOMORROW:
Friday, August 26 – Avon to Steamboat Springs (82.8 mi/138.4 km)
Start Time: 12:30 p.m. MT
Estimated Finish Time: 3:45 – 4:30 p.m. MT
After a punishing Queen Stage and an uphill time trial, these cyclists will be longing for an easier day. But the rolling terrain of Stage 4, with a net elevation change of 5,000 ft. from start to finish, will provide spectators with one of the more interesting and dramatic days of the USA Pro Cycling Challenge. Without significant climbs or high-speed descents, cyclists have numerous opportunities for breakaways, fighting for every mile of pavement and risking everything for King of the Mountain and sprint line competitions. The day starts in Avon at Benchmark and Lake St., travels along Colorado Route 131 through Wolcott and Oak Creek, following 83 miles of scenery to the finish line in downtown Steamboat Springs at 6th and Lincoln.
How To Watch the 2011 USA Pro Cycling Challenge
Fans can view the race on the daily VERSUS broadcasts. Stage 2 will air live on VERSUS tomorrow at 2 p.m. MT.
In addition to the broadcast, fans can follow the 2011 USA Pro Cycling Challenge with THE SHACK Tour Tracker, available on the race website, as well as through a free app in the Android Market and the iTunes store.
For full results, archived footage, GPS data, course information, race play-by-play and more, visit the official race website
www.usaprocyclingchallenge.com
.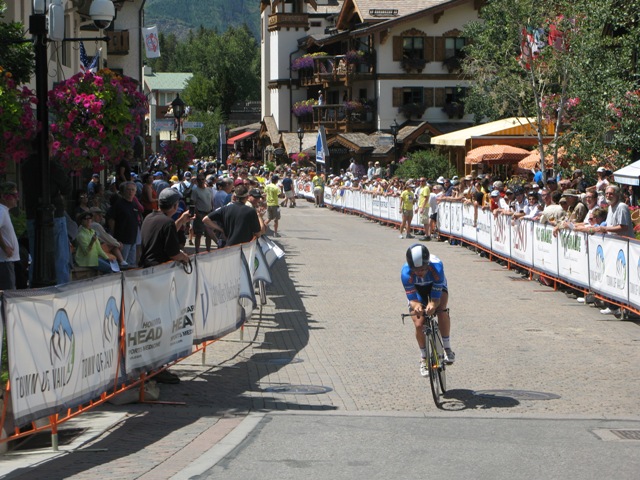 ---

20 Comments on "Leipheimer leaps back into USA Pro Cycling Challenge lead with new course record at Vail time trial"