Hincapie powers to win in thrilling Stage 2 of USA Pro Cycling Challenge in Aspen
Six cyclists separated themselves from the rest of the pack as they climbed over Independence Pass today and zipped down its steep, narrow curves. It was a thrilling sprint to the finish line that saw American racer George Hincapie cross first ahead of Tejay Van Garderen as throngs of fans lining Main Street roared with approval.
"I thought I was in pretty good shape coming into this race," said Hincapie. "I saw a couple guys going and decided to bridge up to them. Once I saw Tejay come across I knew he and Tom Danielson (third) were going to go for the GC and knew I had a great shot to win the stage. It was nice to be able to finish in such a beautiful city with my hands in the air."
But it was Van Garderen who was the day's big winner.
Not only did he impress his Aspen-raised fiancée Jessica Phillips and her hometown friends, Van Garderen is receiving the yellow jersey with the lowest aggregate time after the third day of the USA Pro Cycling Challenge.
"It is definitely a special feeling to see the crowds and have my girlfriend and her family here," Van Garderen said. "I spend a lot of time in Aspen and I couldn't have picked a better place to take the Quiznos Leader Jersey because of all the fans and family I have in Aspen."
The third cyclist to complete the 130-mile odyssey from Gunnison to Aspen was none other than Boulder resident Tom Danielson who is living up to the high
expectations
many observers placed on him before the race.
The red-white-and-blue podium capped a tremendous spectacle of athletic achievement and wild Tour de France-like
fanfare
with the racers flanked by zany Colorado bike enthusiasts, some of them running in the roads dressed in funny costumes as they tipped their cycling caps to their European counterparts.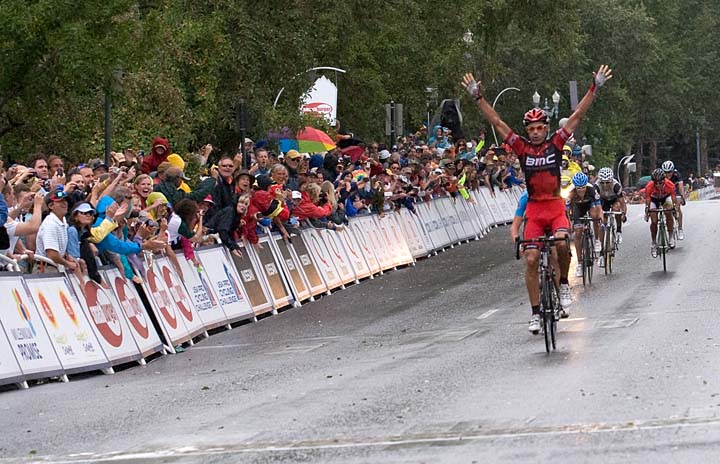 The half dozen racers who separated themselves on Independence Pass were aided on the way down by mostly dry roads — a condition that soon changed and factored against the rest of the peloton trailing behind them.
Rain drowned out the hopes of big-name riders like Luxembourg luminaries Andy and Fränk Schleck who endured a slippery descent down the potentially treacherous slopes that define the 12,095-foot scenic mountain pass.
Tour de France champion Cadel Evans fared better than the Schleck brothers, registering an impressive performance that lands him sixth in the overall results with four days left in the competition. Hincapie is now second to Van Garderen in the overall results, with Danielson in third. American racer Christian Vande Velde is fifth overall.

Shortly after the stage began, on the course toward the 12,126-foot Cottonwood Pass, Daniele Callegarin crashed into a cattle guard triggering a violent wreck that left bike wheels bent and faces and limbs bloodied. Callegarin was flown to Swedish Medical Center in Denver after he suffered a severe concussion, significant facial and dental injuries, two broken hands and deep lacerations. It was a multiple-racer pileup that saw Ivan Basso injure his wrist.

Still, Basso pressed on and completed the stage.
Next up is the 10-mile individual time trial in Vail that begins with a relatively flat sprint at 8,300 feet before turning into an upward climb to 9,600 feet. Racers have said it could determine the contest.
The slick roads that most of the cyclists tested down Independence Pass were also a factor on Cottonwood Pass. Ominous clouds hung over much of the course causing some to say Colorado weather could be the tour's X factor.
The seven-day race ends Sunday in Denver.
Before the USA Pro Cycling Challenge's dramatic finish, Van Garderen's fiancée Phillips finished 14th overall in the inaugural three-day Aspen/Snowmass Women's Pro Stage Race that she started to benefit local young women.
Kristin Armstrong won that contest. Anne Samplonius finished second overall and Kristin McGrath placed third.
Phillips splits her time teaching skiing in Aspen and living part-time in Tuscany, Italy, with Van Garderen.
---

21 Comments on "Hincapie powers to win in thrilling Stage 2 of USA Pro Cycling Challenge in Aspen"