Debate rages over tar sands oil production, massive pipeline from Canada to Texas
A legislative specialist with the Chicago-based Heartland Institute says activists protesting the proposed Keystone XL Pipeline from Alberta, Canada, to the Gulf Coast of Texas may be sincere in their intentions but have "a clear misunderstanding of the functioning of markets."
"If the Keystone XL Project is not completed, expedited construction on a series of pipeline proposals to the British Columbia coast would be made more likely," Heartland's
John Monaghan writes
. "According to [a U.S. Department of Energy] study, these pipelines would significantly open Canadian oil sands to Asian markets and result in a net effect of substantially increasing U.S. dependence on Middle Eastern and African crude oil.
Monaghan was writing in response to protesters who launched a
No Tar Sands Caravan
from California to Washington, D.C. (passing through Boulder and Denver Monday and Tuesday) to join what renowned climate change author Bill McKibben is calling the "largest collective act of civil disobedience in the history of the climate movement."
McKibben, who -- contrary to a Colorado Independent report last week -- was not part of the caravan, was in fact arrested at the White House protest over the weekend. The caravan is an unaffiliated grass-roots effort meant to transport regional protesters to the larger Washington demonstration.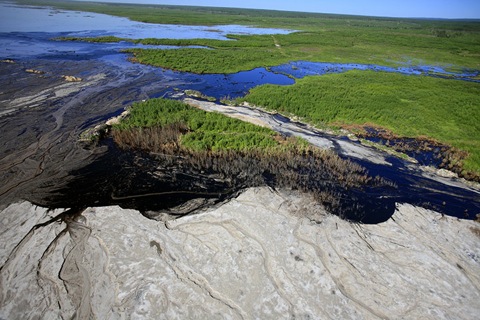 Environmentalists say the highly destructive tar sands oil production process is leading to the devastation of entire ecosystems in Canada and will produce unprecedented planet-warming greenhouse gas emissions. The U.S. State Department must approve the pipeline project because it crosses international borders.
No Tar Sands Caravan organizers responded to Heartland's Monaghan:
"It is not a certainty that proposed future pipeline capacity and development will automatically back-fill lost capacity from a rejected Keystone XL pipeline," said Jordan Perry. "Several other factors play into this, most essential of which is that each additional attempt to get more tar sand oil out of Alberta is being actively, and with increasing success, protested."
In fact, Perry counters, building pipeline capacity through British Columbia to the Pacific is far from a slam dunk.
"First Nations groups lead an activated and energized coalition beating back any effort to expand into B.C. If it was simply a no-brainer to ship the sands to B.C, it would be done," Perry said. "Problem is, B.C., like the Pacific Coast, isn't really up for sale to any bidder like other areas have become. Mr. Monaghan's assertions presuppose there not being further action on future development or capacity expansion -- and that's a flawed premise."
If not B.C., then somewhere else, Monaghan argues, again citing a DOE report.
"Though significant uncertainties exist in the global energy outlook, the study determined that, 'the same slate of crude oils would have to be refined even if reallocated geographically.' In other words, the crude oil will find alternative pathways to market," Monaghan said.
Monaghan's Heartland Institute is a non-profit meant to "discover, develop, and promote free-market solutions to social and economic problems," including "market-based approaches to environmental protection" and "deregulation in areas where property rights and markets do a better job than government bureaucracies."
In the past Heartland has received funding from Koch Industries, famous for its funding of conservative candidates for political office and its ongoing battle against climate change science. However, Heartland has pulled its funding list from its website – something it provided in the past.
"Regrettably, listing our donors in this way allowed people who disagree with our views to accuse us of being 'paid' by specific donors to take positions in public policy debates, something we never do," the group's website reads. "After much deliberation and with some regret, we now keep confidential the identities of all our donors. This is standard practice by nonprofit advocacy organizations regardless of their philosophies."
While it's now unclear if Koch contributes to Heartland, the non-profit does still distribute Koch Industries policy documents.
Follow David O. Williams on Twitter.
---

28 Comments on "Debate rages over tar sands oil production, massive pipeline from Canada to Texas"