Western Slope U.S. Rep. Tipton blasted by conservation groups for anti-environment voting record
U.S. Rep. Scott Tipton's voting record suggests he is more Dick Cheney than Teddy Roosevelt.
The freshman congressman for the Grand Old Party has been busy this year blocking efforts to combat climate change and promote renewable energy, taking funds away from land cleanups and conservation, and weakening the Environmental Protection Agency. All this while protecting tax breaks for big oil.

Colorado Conservation Voters issued a report
Monday highlighting the poor environmental record of Tipton and his fellow Republican congressmen Cory Gardner and Doug Lamborn, who collectively have made 370 votes against the environment this year while largely supporting a pro-polluter agenda.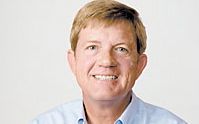 "Congressmen Gardner, Lamborn and Tipton have sided with Big Oil and dirty energy interests at every opportunity during the 112th Congress, voting to protect their unnecessary subsidies while working to block the EPA's ability to hold these corporate polluters accountable," said Colorado Conservation Voters Executive Director Pete Maysmith.
"Instead of working to protect the water we drink and air we breathe here in Colorado, our representatives are voting again and again to let corporate polluters off the hook while accepting tens of thousands of their campaign contributions."
The trio of environmental troublemakers voted 18 times this year to protect tax breaks for big oil, 57 times against efforts to combat climate change, 134 times against programs and funding to keep water and air clean, 98 times to defund or weaken the EPA and 64 times against renewable energy initiatives.
And that's not even counting Tipton's co-sponsorship of HR 1581, the Wilderness and Roadless Area Release Act — a bill so far-reaching it's testing the tempers of folks who lean to the left and to the right.
"Being a big game hunter and co-chair of Colorado Backcountry Hunters & Anglers, a group inspired by the likes of Theodore Roosevelt (a Republican), I was disappointed to learn that Tipton is co-sponsoring anti-hunting legislation, HR 1581, the Wilderness and Roadless Area Release Act," David Lien of Colorado Springs recently wrote in a letter to the editor to several newspapers.
"Roosevelt would be turning over in his grave today at the prospect of HR 1581, which if implemented would open some 60 million acres of these backcountry lands to road construction, motorized recreation, mining, and oil and gas extraction. Here in Colorado, 12 of the 15 most hunted game management units (the most productive ones) have over 100,000 acres of roadless backcountry. More than 70 percent of Colorado River cutthroat trout habitat is in roadless areas. Build roads in these areas, and the elk migrations are hindered, the mule deer populations suffer, and the trout spawning habitat is negatively impacted. That means fewer hunting and fishing opportunities," Lien wrote.
Vast amounts of rugged natural terrain would be open to drilling, mining and roadbuilding under HR 1581, including Castle Peak in Eagle County and the Little Bookcliffs, where scores of wild horses run free.
"This is the biggest attack on wilderness we have seen in the history of The Wilderness Society," said Wilderness Society policy analyst Paul Spitler. "This proposal flies in the face of values Americans hold dear with respect to stewardship of our public lands. It also flies in the face of nearly fifty years of legislation designating new wilderness areas. Your favorite places where you love to hunt, fish or hike? Gone. Protection for our drinking water and habitat for wildlife? Gone. That this proposal comes from the Republican leadership in Congress makes it more alarming. An attack of this magnitude does not represent the vision of Theodore Roosevelt or all the other great Republican leaders who love our public lands."
No votes have been cast on HR 1581 yet so it wasn't included in the Colorado Conservation Voters report.
Tipton has accepted at least $3,500 in campaign contributions from oil and gas companies and $10,500 from mining companies.
"The single most egregious vote he's cast is to preserve $5 billion in taxpayer handouts to the top five big oil companies," Maysmith said.
---

39 Comments on "Western Slope U.S. Rep. Tipton blasted by conservation groups for anti-environment voting record"