Germany's Gretsch wins USA Pro Cycling Challenge prologue; Vande Velde second
COLORADO SPRINGS – The inaugural USA Pro Cycling Challenge started on a high note in Colorado Springs when Patrick Gretsch (GER) of HTC-Highroad bested a world-class field containing the 2011 Tour de France podium finishers and five World Champions to claim victory on a fast, mainly downhill course lined shoulder-to-shoulder with cheering fans.
The enthusiastic crowd cheered on the cyclists as they made their way from The Garden of the Gods to downtown Colorado Springs where Gretsch became the first rider ever to wear the Quiznos Leader Jersey in the USA Pro Cycling Challenge.
"Winning the Prologue of the USA Pro Cycling Challenge today is a really nice feeling," said Gretsch. "I put a lot of my focus on the Prologue. I had really good preparation and I felt really good in training this morning. It felt great out there and I'm super happy to get the win. I think all the other teams have to watch out for us."
Gretsch completed one of the fastest time trials ever in a major professional cycling race on American soil, covering the 5.2-mile (8.3 km) course in 8 minutes and 27 seconds. He will begin day two of the race wearing the yellow Quiznos Leader Jersey when Stage 1 takes the riders from Salida to Mt. Crested Butte, a 99.3-mile (159.8 km) on Tuesday afternoon.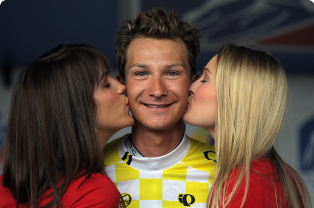 In second place, two seconds behind Gretsch, was Christian Vande Velde (USA) of Team Garmin-Cervelo, followed by Brent Bookwalter (USA) of BMC Racing Team, who came in third, four seconds off the pace. BMC Racing Team became the general team classification leader after the first day of racing with a total time of 25 minutes and 40 seconds.
Featuring a mostly declining profile, the course had cycling fans lined up five-deep in places to see the race action.
"That was about as fun a day as I've ever had and it was a spectacular moment of truth," said Shawn Hunter, co-founder and CEO, USA Pro Cycling Challenge. "It was a phenomenal first day with fans along every corner. I think the riders can feel that enthusiasm and it is only going to build. Colorado Springs set the bar very high."
Early race favorites finishing in the top-25 included Jens Voigt (GER) of Leopard-Trek, Levi Leipheimer (USA) of Team RadioShack, Cadel Evans (AUS) of BMC Racing Team, Tom Danielson (USA) of Team Garmin-Cervelo, Robert Gesink (NED) of Rabobank, Rory Sutherland (AUS) of UnitedHealthcare Pro Cycling Team, Sergio Luis Henao (COL) of Gobernacion de Antioquia-Indeportes Antiquia and Tejay Van Garderen (USA) of HTC-Highroad.
In a sweep for HTC-Highroad, the team took all the jerseys that were awarded today. The Quiznos Leader Jersey was awarded to Gretsch. The Sheets Best Young Rider's Jersey was claimed by Van Garderen, who finished at 8 minutes and 35 seconds. The Exergy Most Aggressive Jersey went to Danny Pate (USA). The Smashburger Sprint Jersey and Nissan King of the Mountain (KOM) Jersey will be awarded for the first time tomorrow.
STAGE 1 TOMORROW:
Tuesday, August 23 – Salida to Mt. Crested Butte (99.3 mi/159.9 km)
Start Time: 11:45 a.m. MT
Estimated Finish Time: 3:40 – 4:30 p.m. MT
Satellite Feed Time: 5:30 – 5:45 p.m. MT
Starting in downtown Salida at F St. and Sackett, the riders will take a circuit through downtown before heading on their way on this nearly 100-mile course to Mt. Crested Butte. The first climb up 11,315-ft. Monarch Pass forces the riders to gain 3,250 ft. in elevation over 13 miles, and will be their first taste of the oxygen-deprived Colorado high altitude, as well as the first King of the Mountain competition.
After this, the cyclists will have two sprint lines to compete for – one in Gunnison and one near the finish line in Crested Butte. With a sprint line so close to the finish, competitors will have to decide which line to expend their energy racing for because both will be impossible in a finish like this one. In this unique finish equation, the competitors in Stage 1 will close out the day on an uphill climb, from the lower area of Crested Butte to the finish line on Mt. Crested Butte – the USA Pro Cycling Challenge's only mountain top finish.
How To Watch the 2011 USA Pro Cycling Challenge
Fans can view the race on the daily VERSUS broadcasts. Stage 1 will air live on VERSUS tomorrow at 2 p.m. MT.
In addition to the broadcast, fans can follow the 2011 USA Pro Cycling Challenge with THE SHACK Tour Tracker. Available on the race website, as well as through a free app in the Android Market and the iTunes store, the 2011 THE SHACK Tour Tracker includes:
Live video coverage of every stage
Up-to-the-minute text updates during the race
GPS tracking and interactive maps
Daily results and overall standings
Photo feed from the race
Stage previews, including overviews, maps and profiles
Team and rider listings
For full results, archived footage, GPS data, course information, race play-by-play and more, please visit the official race website www.usaprocyclingchallenge.com.
---

396 Comments on "Germany's Gretsch wins USA Pro Cycling Challenge prologue; Vande Velde second"