Former Colorado Govs. Lamm, Romer, Ritter to field audience questions at Vilar Center; Owens cancels
The Vail Symposium is asking for a few good questions from potential audience members to drive a panel discussion featuring three of the last four Colorado governors.
Originally billed as "Four governors for Colorado," the event Tuesday at 6 p.m. at the Vilar Performing Arts Center in Beaver Creek was supposed to include former Gov. Bill Owens (1999-2007), the only Republican to occupy the governor's mansion since 1975. But Owens, according to organizers, "had to cancel due to a business trip out of the country."
The scaled-back discussion now features former Democratic Govs. Dick Lamm (1975-87), Roy Romer (1987-99), and Bill Ritter (2007-11) for a roundtable in which they'll answer audience-generated questions. Vail Mayor Dick Cleveland will moderate.
Send questions by emailing
info@vailsymposium.org
and go to the
Vail Symposium website
to register for the event, which costs $77 ($67 for Symposium donors). A reception will be held at 5:30 p.m.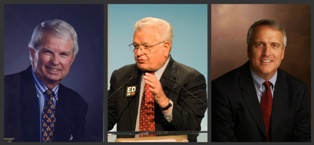 Here's the full Symposium press release:
Three Governors For Colorado, Tuesday, August 23, 2011. Presented by Alpine Bank
Join former Colorado Governors Dick Lamm, Roy Romer and Bill Ritter for a panel discussion that addresses the topics you care about the most. In the weeks leading up to this program, the Vail Symposium will invite locals to submit questions for the former governors on our website. A selection of these questions will then be presented to the panelists during the discussion by moderator Vail Mayor Dick Cleveland.
Richard "Dick" Lamm was the 38th Governor of Colorado and served three terms, from 1975-1987. Reacting to the high cost of campaigning, he walked the state in his campaign for governor in 1974. Lamm was an early leader of the environmental movement and was President of the First National Conference on Population and The Environment. Always on the forefront of political change, Governor Lamm has appeared on nearly every national news program and has written or co-authored six books.
Roy Romer was the 39th Governor of Colorado, served as the superintendent of the Los Angeles Unified School District from 2001 to 2006 and is a former chairman of the Democratic National Committee. Romer was first elected as governor in 1986 and re-elected in 1990 and 1994. In 2007 he became the chairman and lead spokesman for Strong American Schools, a nonprofit project responsible for running "Ed in '08," an information and initiative campaign aimed at encouraging 2008 presidential contenders to include education in their campaign policies.
Bill Ritter, Jr., was elected Colorado's 41st governor in 2006, the state's first Colorado-born governor in more than 35 years. Ritter served only one term, from 2007 to 2011, after deciding not to run for re-election in 2010. Governor Ritter established Colorado as a national leader in renewable energy by creating "A New Energy Economy" and increased financial investment in colleges and universities.
---

483 Comments on "Former Colorado Govs. Lamm, Romer, Ritter to field audience questions at Vilar Center; Owens cancels"