Sen. Bennet high on methane gas pumping out of Colorado's high country
Denver Democrat tours Western Slope, promotes alternative energy
During a three-day trip through the Western Slope this week, U.S. Sen. Michael Bennet promoted clean energy as a means to create more jobs in Colorado and break the nation's dependence on foreign oil.
Meeting with members of the West Slope Compressed Natural Gas Collaborative in Rifle and touring a nearby compressed natural gas station, the senator expressed enthusiasm for methane in the mountains.
"In my view, an incredibly strong economic case can be made for the use of natural gas in vehicles, especially in fleets," Bennet was quoted as saying this week in the Glenwood Springs Post Independent.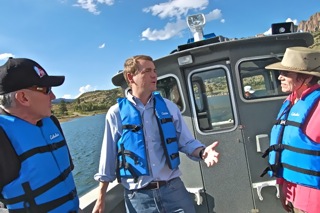 But in light of the environmental destruction that gas drilling can cause, many communities are fiercely debating the pros and cons of domestic energy production. The Gunnison Board of County Commissioners is considering a moratorium to limit new gas-related activity within its borders and a meeting this week drew local landowners, businessmen and engineers who said their livelihoods would be threatened by such an action. Before the meeting, the president of the Crested Butte Farmers Market, Kevin McGruther, set the tone for the discussion by calling supporters of the natural gas industry "prostitutes" and "whores" who sell themselves for profit, the Crested Butte News reported.
Bitterness must have been in the Gunnison air because the next morning at a town hall meeting with Sen. Bennet, a constituent vented, in no uncertain terms, his frustration over the political gridlock in Washington, D.C.
"If I didn't know you, I wouldn't vote for you again. You guys have got to get along. And you've got to compromise! You guys are joking us," the man said to Bennet, as reported by The Denver Post.
One place with less debate over drilling than Gunnison is Carbondale, where a broad coalition of ranchers, environmentalists, sportsmen, and locals agree they don't want it in their back yard.
Sen. Bennet told an audience in Carbondale on Monday that he is meeting with U.S. Interior Secretary Ken Salazar to craft legislation to preserve Thompson Divide — 221,500 acres of federal land in Pitkin, Gunnison, Garfield, Mesa and Delta counties where oil and gas developers hold 81 leases. No ground has been broken yet but Texas-based SG Interests is proposing a 32,000-acre exploratory unit there. Opponents say it would harm the watershed, disrupt ranching and recreation, and disturb wildlife.
"My own sense is that we're getting closer and closer on the Thompson Divide," the Aspen Daily News quoted Bennet as saying. "I hope that we can come to a place where we can assert that level of agreement and move forward with legislation and protect this incredibly important asset."
Balancing domestic energy needs with environmental concerns is a delicate act, and one that the senator will increasingly face as he seeks to achieve American oil independence. Bennet joined Sens. Jeff Merkley, D-OR, Tom Carper, D-DE, and Tom Udall, D-NM, in June to introduce the Oil Independence for a Stronger America Act, which aims to end foreign oil imports by 2030.

---

500 Comments on "Sen. Bennet high on methane gas pumping out of Colorado's high country"