Udall hammers on members of GOP for bowing to Tea Party, worrying too much about getting re-elected
U.S. Sen. Mark Udall, a Colorado Democrat long known for his moderate views and willingness to reach across the aisle (sometimes to the chagrin of the state's liberal base), has apparently had enough of the unbending rigidity of the Republican Party in Washington these days.
In an email today to supporters, Udall called out the Tea Party and members of the GOP who are caving into its no-compromise agenda, risking economic ruin rather than getting the country back on its feet with common-sense solutions. Coming off his tour last week of Colorado's Western Slope, Udall said it was refreshing to see how his home state often comes together on critical issues and doesn't let partisan politics interfere.
He went on to call out Republicans in Washington and implore them to adopt the same spirit of compromise. Udall has sometimes angered his Democratic base, supporting nuclear power and recently declaring the controversial natural gas-drilling process of hydraulic fracturing safe and not a threat to human health.
But the example Udall used in his email today is his 2002 vote against invading Iraq and subsequent votes to fund the war effort.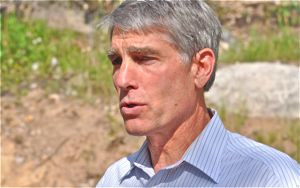 Here's an excerpt:
"The truth is I have never been more frustrated than I am right now with Washington's inability to lead and solve problems. This recession is hurting all of us, and Congress should be devoting 100 percent of its time to creating jobs, sensibly shrinking our budget deficit, helping private businesses grow, and cutting red tape.
"Instead, many of our elected officials are playing chicken with our economy to score political points and win elections. It's little wonder Congress's approval rating hit a record low. You know what ... we've earned it. There is no getting around it, Congress is failing the American people.
"Despite my preference to not assign blame, at some point I have to stand up and call it like I see it. The hard truth is that some Republicans in Washington, unlike Republicans in Colorado, have become so unbending in their ideology and so unwilling to move an inch towards compromise, that they have made Congress dysfunctional. Our nation was even brought to the brink of a national default a few weeks ago because of an insistence on a rigid partisan agenda.
"In a country as large and diverse as America, compromise is how we get things done. It isn't always pretty, but we have to find solutions to our problems that, at the end of the day, most people can live with. We can't allow one fringe part of the Republican Party to dominate the political discussion and hold our government hostage to get their way.
"I understand many of my Republican colleagues in Washington are feeling pressure from within their party not to compromise. For them to go against the extremist Tea Party position is politically risky and might hurt them in an election. But we aren't elected to perpetually run for office. We are elected to lead, and at times like this, we need to put the needs of our country ahead of our respective parties.
"Let me give you one example. In 2002, I voted against authorizing the war in Iraq because I believed it would be a costly and misguided effort that would ultimately turn our focus away from Afghanistan, where Al Qaeda was based.
"That move earned me respect with many within my party. But my subsequent votes to continue funding for our troops overseas earned me their ire and made me a constant target of Democrats who disagreed. I heard and understood their concerns, but at the end of the day, I was elected to represent all of Colorado, not just my party. I did what I felt was right for our country.
"We need our friends across the aisle to do the same and stand with the American people in these difficult times. It's beyond time to put the needs of working families ahead of rigid ideology and party politics. If we are truly serious about helping working people get ahead, it's time to stop the brinksmanship that is dragging down our economy and taking away good American jobs."

---

193 Comments on "Udall hammers on members of GOP for bowing to Tea Party, worrying too much about getting re-elected"