Feds say protests of natural gas leases way down since Interior Department reforms
DeGette pushes for more clarity from EPA on use of diesel fuel in gas fracking
Sportsmen and conservation groups are singing the praises of a new federal analysis showing protests of proposed oil and gas leases on federal lands are way down in the wake of reforms first implemented by the Interior Department last year.
Meanwhile, senior Colorado Congresswoman Diana DeGette is once again leading the charge for tighter regulation of the controversial gas-drilling process called hydraulic fracturing, seeking greater clarity from the U.S. Environmental Protection Agency on the definition of diesel fuel.
Last week, new U.S. Bureau of Land Management (BLM)
report (pdf
) found that only 8 percent of all proposed leases were formally protested by environmental groups so far this year compared to 36 percent over the last six years.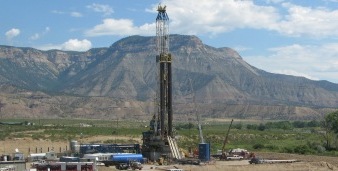 "Before the leasing reforms, the public typically didn't know what energy companies had planned until the BLM started approving drill permits," said Kate Zimmerman, senior policy adviser with the National Wildlife Federation, a member of Sportsmen for Responsible Energy Development (SFRED).
"By that time, BLM would say it was too late to consider the impacts to fish and wildlife that would result from drilling. Often, the only way for the public to raise concerns was to protest the issuance of the leases, and that is always an expensive and time-consuming process."
Interior Secretary Ken Salazar first announced the leasing reforms, which were designed to allow more up-front public input and to curtail the use of "categorical exclusions" for some parcels, early in 2010. At the time he blasted the oil and gas industry for fighting his reforms and the previous administration for allowing the industry so much leeway on environmental issues.
"The difference is that in the prior administration the oil and gas industry essentially were the kings of the world,"
Salazar told reporters
at the time. "Whatever they wanted to happen essentially happened. The department was essentially a handmaiden of the industry."
The new reforms were finally finalized in May of 2010 and have been targeted by industry representatives and some Republican lawmakers ever since. In May, just two days after the U.S. Senate rejected a bill that would have ended billions in tax breaks and subsidies for the nation's top oil and gas companies, Sen. John Barrasso, R-Wyo., introduced
a bill
aimed at "removing barriers to American onshore oil and natural gas production."
But in March the Interior Department released a study showing up to half of all onshore oil and gas leases on federal lands are not being utilized by the industry. And just last month a new study entitled "
Sitting Pretty" (pdf
) showed there are 6,573 BLM drilling permits currently on the books in five western states, 571 of them in Colorado.
"We've worked long and hard to bring some balance back into the process of energy leasing on public land," said Brad Powell, energy director for Trout Unlimited, also a SFRED member. "For generations we've seen fish and game and the habitat they need take a back seat to the desires of the oil and gas industry, and we've had the support of the American public in our efforts to get the BLM to do something about it."
Meanwhile, DeGette, a Denver Democrat, continues to push for federal natural gas drilling reforms. On Monday she joined fellow Democrats Henry Waxman, Edward Markey and Rush Holt in asking the U.S. Environmental Protection Agency (EPA) to write a much broader definition of diesel fuel than the industry seems willing to accept.
The Democrats produced
a report in January
showing Halliburton and other oil service providers may have illegally used millions of gallons of diesel fuel in the controversial but commonly used gas-drilling practice of hydraulic fracturing, which injects water, sand and undisclosed chemicals deep underground to crack open rocks and free up more gas.
Industry representatives, including the head of the Colorado Oil and Gas Association, agreed that diesel fuel was not part of a Safe Drinking Water Act exemption for hydraulic fracturing that was granted during the Bush administration in 2005. But
they countered
that the EPA never engaged in an official rulemaking that defined the parameters for using diesel fuel in fracking. Now DeGette and other Dems want the EPA to do just that.
In a press release Monday announcing a formal letter to EPA administrator Lisa Jackson the Democrats asked her agency "to craft a definition of 'diesel fuel' for its upcoming guidance on permitting hydraulic fracturing activities that is broad enough to protect human health and require permitting for all diesel fuels, including those that contain benzene and other toxic components."
The same Democrats produced
a congressional report in April
showing fracking fluids can contain up to 29 known human carcinogens, including benzene, toluene, ethylbenzene and xylenes (BTEX). The 2005 Energy Policy Act exempted fracking from the SDWA "unless the fluid injected contains diesel fuel," primarily because it contains BTEX.
Tisha Schuller, president and CEO of the Colorado Oil & Gas Association (COGA), told the Colorado Independent in February that "EPA never went through the public rulemaking process, or even provided guidance to the states in this regard; thus, there was not a regulatory framework for permitting or reporting hydraulic fracturing with diesel through EPA. As a result, there wasn't a regulation to be broken."
For a full text of the DeGette, Waxman, Markey, Holt letter to Jackson, click
here (pdf
).
---

0 Comments on "Feds say protests of natural gas leases way down since Interior Department reforms"
Be the first to comment below.