Colorado sawmills let off the hook, but skeptics question viability of beetle kill industry
The announcement late last week that three Colorado sawmills are being let out of pre-recession timber contracts with the U.S. Forest Service was met with relief from U.S. Sen. Mark Udall and skepticism among some in the conservation community who say the move will only have short-term impacts.
"By allowing the 'mutual cancellation' of these contracts, the U.S. Forest Service is helping the local economy and promoting a healthy forest management industry," said Udall, who's
working on the issue
. "Our mills employ hundreds of Coloradans, and they provide an irreplaceable service, crucial to reducing wildfire risk to communities and removing hazardous beetle-killed trees near roads, power lines, trailheads, picnic areas and campgrounds.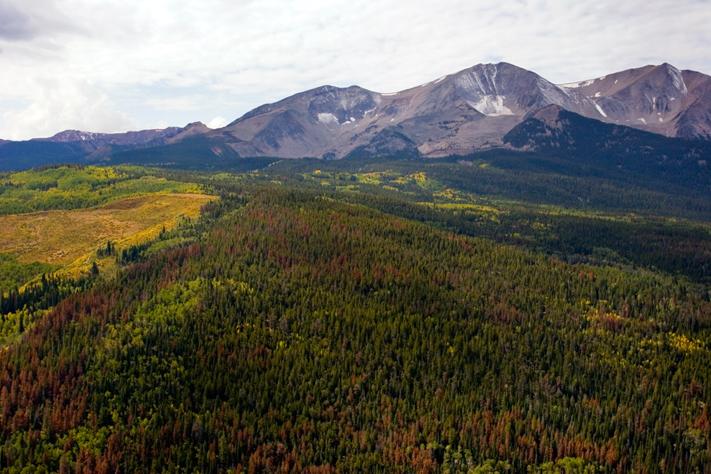 "After they are free from these old contracts, the mills can take dead or hazardous timber that would otherwise go to waste and use it to create jobs."
But Sloan Shoemaker of the Colorado Bark Beetle Cooperative told the Associated Press that "much of the beetle kill is not economically viable, no matter how many concessions the sawmill industry gets."
More than 4 million acres of mostly lodgepole pine forest in Colorado and Wyoming have been wiped out by an ongoing mountain pine bark beetle epidemic. Scientists say trees stressed by global climate change and drought conditions have become increasingly susceptible to the bugs, which burrow under the bark of mature trees.
Three Colorado sawmills – in Montrose, Saguache and Delta counties – have been struggling trying to fulfill contracts signed before a global recession dramatically decreased demand for forest products, especially in the home construction industry.
Experts say lodgepole pine trees are small and rot quickly after being killed by the bugs, meaning they are far from ideal for making lumber for home building – an industry that has dropped off precipitously in recent years anyway.
"Overshadowing all of this is the poor state of the economy," said Rocky Smith of Rocky Mountain Wild, formerly Colorado Wild. "As with most other products, the demand for wood is fairly low."
The high-heat gasification of wood products can relatively cleanly produce hot water heat and electricity, but biomass is a power source largely untapped in Colorado because it's capital-intensive and comes with a whole set of access issues if the fuel is on federal land. Still, state lawmakers have formed a working group to try to kick-start biomass power in Colorado.
---

0 Comments on "Colorado sawmills let off the hook, but skeptics question viability of beetle kill industry"
Be the first to comment below.