Schleck brother confirm (again) for USA Pro Cycling Challenge, giving race top three Tour de France finishers
The USA Pro Cycling Challenge today announced that all three Tour de France podium finishers are set to be at the starting line for the inaugural race, Aug. 22-28, which includes stages in Vail and Avon.
The inaugural stage race initially confirmed in March that Andy and Frank Schleck would attend the Colorado race, but there had been some confusion since they placed second and third in last month's Tour de France. Tour de France winner Cadel Evans of Australia confirmed for the Colorado race last week.
In addition, the top American finisher, Tom Danielson is confirmed to compete along with two-time Giro d'Italia winner Ivan Basso of Italy.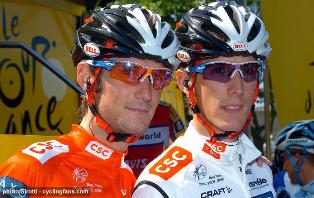 "The confirmed participation of the sport's premiere athletes is a monumental achievement for the event in its first year," said Sean Petty, Chief Operating Officer for USA Cycling. "It shows the interest and intrigue in what will prove to be an epic battle through the Colorado Rockies."
"Our goal is to assemble one of the best competitive fields an American professional stage race has ever seen," said Shawn Hunter, co-chairman of the USA Pro Cycling Challenge. "This is a great moment of truth for the sport in America and for our race. To have secured such an incredible lineup of teams along with the greatest riders in the world is a credit to what the owners have committed to do in the event's inaugural year."
Evans, who races for UCI ProTeam BMC Racing Team (USA), began his career as a champion mountain biker and prior to focusing on road cycling won two World Cup titles in addition to placing seventh in the men's mountain bike cross-country race at the 2000 Olympic Games. Evans completed the Tour de France in just over 86 hours and was followed closely by brothers and Leopard Trek (Luxembourg) teammates Andy and Fränk Schleck, who both finished within two and a half minutes of him.
All three riders also finished in the top five in the hunt for the King of the Mountain jersey, defining a skill that will prove instrumental as the diverse terrain of the USA Pro Cycling Challenge ascends more than two miles in elevation through the Rocky Mountains.
"I've heard good things about the race in Colorado and I know it won't be easy. But I'm up for one more challenge," said Evans.
Durango, Colo., native Danielson, who races for Tour de France team champion Garmin-Cervélo (USA), will look to become the home-state hero of the USA Pro Cycling Challenge following his ninth place finish at this year's Tour de France. He will be challenged by Ivan Basso of Liquigas-Cannondale (Italy), who emerged as the best of the field in the 2006 and 2010 editions of the Giro d'Italia.
Also joining BMC Racing Team, Leopard Trek, Garmin-Cervélo and of Liquigas-Cannondale in next month's race are fellow UCI Pro Teams HTC-Highroad (USA), Rabobank Cycling Team (Netherlands), Saxo Bank-SunGard (Denmark) and Team RadioShack (USA). UCI Professional Continental Teams UnitedHealthcare Pro Cycling Team (USA), Team Type 1-sanofi aventis (USA), Skil-Shimano (Netherlands), and Team Spidertech Powered by C10 (Canada) are also set to compete along with UCI Continental Teams Jelly Belly Cycling (USA), Bissell Cycling (USA), Team Exergy (USA), EPM-UNE (Columbia) and Gobernacion (Columbia).
Participating cyclists for each team will be announced as rosters are finalized this week.
More information can be found on the website www.USAprocyclingchallenge.com and Twitter page @USAProChallenge.
---

0 Comments on "Schleck brother confirm (again) for USA Pro Cycling Challenge, giving race top three Tour de France finishers"
Be the first to comment below.