Top American Tour de France finisher Danielson favored by some to win USA Pro Cycling Challenge
The climb up Cottonwood and Independence passes could separate the men from the boys in the upcoming USA Pro Cycling Challenge. The 130-mile journey from Gunnison to Aspen on Aug. 24, the third day and second stage of the inaugural race, is being called the highest stage in international cycling history.
Boasting elevations above 12,000 feet, the passes will be a test of endurance. Cyclists must wheel their thin road tires up 12 miles of dirt road as they ascend 2,740 vertical feet to reach Cottonwood Pass before they confront the grueling switchbacks up the steep and hairy roads of Independence Pass.
The descent into Aspen should be fast and fun.
Some riders, like Tour de France winner
Cadel Evans
, haven't ridden the passes before. Others, like Colorado resident Tom Danielson, 33, know them well.
In Saturday's
Denver Post
, the director of Evans' BMC Racing team, Jim Ochowicz, told John Henderson that Danielson is the favorite to win the race. Danielson, who hails from Durango, is experienced in Colorado's high country. He holds the course record for biking Mt. Evans, where the road reaches 14,100 feet.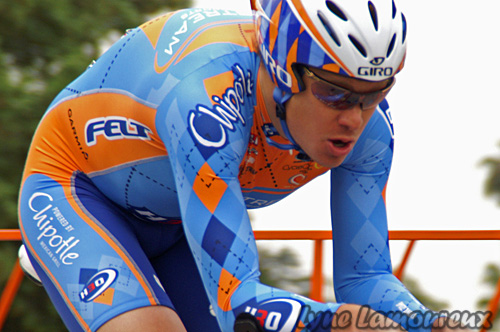 Meanwhile, even though Evans is familiar with Colorado and is reportedly excited for the competition here, he doesn't have the benefit of having ever ridden Cottonwood or Independence passes before. So he's going to wing it.
"He hasn't done them," Ochowicz told The Denver Post, discussing Evans' busy post-Tour de France schedule Down Under. "There's not enough time to plan to go see the courses. Nobody's going to have a chance to recon."
The trip from Gunnison to Aspen, known as the Queen Stage, will be utterly thrilling. But as Brian Holcombe at VeloNews notes "there will be a little bit for everyone" throughout the Colorado tour thanks to its interesting terrain. He too lists Danielson as a rider who could have success, particularly in the East Vail Time Trial where, Holcombe writes, the altitude and consistent pitch are well-suited for Danielson.
Check out Holcombe's breakdown of the USA Pro Cycling Challenge's prologue and six stages
here
.
Quick note: Even though organizers announced in
March
that Andy and Fränk Schleck were
confirmed
to compete in the Colorado tour (which was initially called the Quiznos Pro Challenge), in recent days a spokeswoman for the event has said that there is "
a good chance
" that the brothers will race in the USA Pro Cycling Challenge. If they do, it will be the first time in history that a full Tour de France podium races in an American cycling race. Lance Armstrong, who first conceived the Colorado tour, said in Aspen on Thursday that the Schleck brothers will race here.
---

59 Comments on "Top American Tour de France finisher Danielson favored by some to win USA Pro Cycling Challenge"