Cadel Evans commits to USA Pro Cycling Challenge
It's official: Tour de France winner Cadel Evans will race in the USA Pro Cycling Challenge.

The race's co-chairman Shawn Hunter confirmed that Evans will compete in Colorado's inaugural race to The Denver Post in a story published today. As Real Vail reported earlier this week, VeloNews noted on Monday that Evans had backed out of Vuelta a España, which directly conflicts with the USA Pro Cycling Challenge to be held Aug. 22-28.

With Evans now in the fold, the USA Pro Cycling Challenge will field all three podium finishers from this year's Tour de France, which is reportedly the first time in American cycling history that an entire Tour de France podium will compete in an American race in the same year.
Back in March, brothers Andy (who finished second in France) and Frank (who finished third) Schleck announced they would compete in the Colorado tour. U.S.-based BMC Racing team, for which Evans, an Australian, races had also previously confirmed its participation but it was unclear whether its best cyclist would be along for the ride.
Until now.
The USA Pro Cycling Challenge — which came to fruition after part-time local Lance Armstrong dreamed up the idea while cycling around Aspen — is the first elite international race in Colorado since the famed Coors Classic.
The top American in the Tour, Tom Danielson, who finished ninth, is also confirmed for the Colorado race.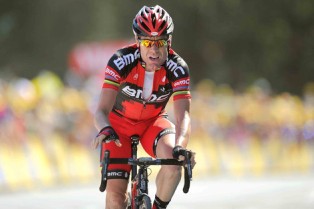 Organizers are hailing the USA Pro Cycling Challenge as "the most demanding professional bike race ever held in America, with racers experiencing breathless altitudes and nearly 600 mountain miles, for seven straight days. It will include climbs up the 12,095-foot Independence Pass and the 12,126 foot-Cottonwood Pass, which are higher than any elevations on the European or North American cycling tours.
The USA Pro Cycling Challenge will traverse some of Colorado's most breathtaking scenery with stages in Aspen, Crested Butte, Gunnison, Vail, Avon, Steamboat Springs, Breckenridge, Colorado Springs, Golden and Denver. Although no one can be sure until it actually happens, the race is supposed to be the largest spectator event ever held in this state.
---

6 Comments on "Cadel Evans commits to USA Pro Cycling Challenge"