Study: Oil and gas industry 'sitting pretty' with thousands of undrilled federal permits across West
Republican lawmakers this session have been steadily hammering on Interior Secretary Ken Salazar's onshore oil and gas drilling reforms that were first announced in January of last year and finally implemented in May.
As this month's ExxonMobil pipeline spill into Montana's Yellowstone River would seem to indicate, more judicious oil and gas leasing and permitting – with greater opportunity for public review and input – now looks like a wise path forward in 2011.
But several bills have been introduced, both in the House and the Senate, that are aimed at speeding up both the leasing and the permitting process for oil and gas companies looking to drill on federal lands.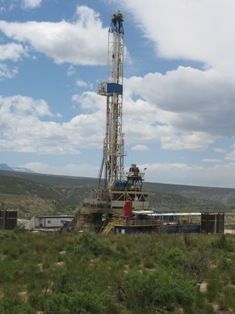 U.S. Rep. Mike Coffman, R-Colo.,
in June
introduced the Facilitating American Security Through Energy Resources Act (FASTER), and Sen. John Barrasso, R-Wyo., introduced the American Energy and Western Jobs Act
in May
. Both bills look to streamline the regulatory process for oil and gas companies drilling on U.S. Bureau of Land Management (BLM) lands.
Despite a
study by the Interior Department
showing half of all onshore federal leases are not currently being utilized by the oil and gas industry, the GOP drumbeat has been steady – more leasing means more drilling means more jobs and lower prices at the pump.
And besides, industry and friendly lawmakers point out, leases are broad swaths that have to be explored, oil and gas has to be found and permits then need to be issued in a timely fashion in order for drilling to actually occur.
Now comes a new study from the Wilderness Society showing that the oil and gas industry is sitting on thousands of actual permits that are not in production – the vast majority of them in the Rocky Mountain West.
Entitled "Sitting Pretty," the
new analysis (pdf
) shows Colorado is in the top five of states where BLM drilling permits have been issued but no production has occurred. Overall there are 6,573 such permits currently on the books, with 571 of them in Colorado. That ranks fourth on the list and represents nearly 9 percent of all the federal permits issued in the state.
By far the most permits issued but not drilled are in Barrasso's home state of Wyoming, where 3,528 permits have been issued but not drilled, or 53.7 percent of all the permits issued.
"The federal government controls vast energy resources in the western United States," Barrasso said in a
May press release
announcing the American Energy and Western Jobs Act. "Responsible energy exploration in the West will create American jobs and promote American energy security. In order to increase energy production, we must streamline the process and repeal this administration's policies that are making the pain at the pump worse."
But conservation groups counter that the oil and gas industry is stockpiling leases and permits without putting into production federal lands it already has the green light to drill. They question the wisdom of rolling back environmental protections in order to open up even more land.
"Sen. Barrasso clearly has his sights set in the wrong direction. Rather than making improvements, he wants to go back to the days of 'lease first, think later,'" said Bill Eikenberry, a former BLM director in Wyoming, where he oversaw more than 1,000 federal employees and 18 million acres of federal land.
"Secretary Salazar is right that we can both develop American energy resources and protect water, land, and wildlife habitat," Eikenberry added. "Sen. Barrasso should join in that pursuit, not fight against it."
The Wilderness Society study comes hard on the heels of a
National Wildlife Federation report
showing oil and gas activity has had an adverse impact on the size and health of mule deer and pronghorn antelope herds along the Wyoming-Colorado border.
Second on the Wilderness Society list of states with the most oil and gas drilling permits issued but not drilled is New Mexico with 1,307, or just under 20 percent.
"Industry is demanding we hand over more public lands despite the millions of acres of leased land not being developed or thousands of unused drilling permits." said Oscar Simpson of Backcountry Hunters and Anglers in New Mexico. "We're told that we have to choose between energy development and protection for water and wildlife. That's simply unacceptable."
---

13 Comments on "Study: Oil and gas industry 'sitting pretty' with thousands of undrilled federal permits across West"