EPA calls out USFS over greenhouse gas emissions, water quality concerns in Colorado Roadless Rule
The U.S. Environmental Protection Agency (EPA) hasn't exactly given the controversial Colorado Roadless Rule a failing grade, but the federal agency this week did issue an "I" for incomplete.
Technically, the EPA rated the revised draft environmental impact statement (RDEIS) by the U.S. Forest Service an EC-2, or "Environmental Concerns – Insufficient Information." That means EPA wants a lot more information before it will sign off on a plan by the state of Colorado and the USFS for managing nearly 4.2 million acres of roadless national forest in the state.
"Our primary concerns and recommendations are as follows: inclusion of limited upper-tier acreage, air quality, greenhouse gas emissions associated with future coal development, aquatic resources and environmental justice," the EPA wrote in its comments to the Forest Service on Monday (
pdf
).
In Alternative 2, the Forest Service's preferred alternative, 562,200 acres are afforded "upper tier" protection from road building.
Opponents of the state-specific plan
for managing federal roadless areas have long maintained that granting only 13 percent of the overall acreage upper tier status is woefully inadequate.
That's a
sentiment echoed
by Colorado's senior member of Congress, Rep. Diana DeGette, just last week.
"The proposed alternative of the Colorado Roadless Rule falls short in several ways," DeGette wrote to the Forest Service. "It provides 'upper tier' protection to only 13 percent of Inventoried Roadless Areas even though over 65 percent of these areas are identified in the various alternatives for the 'upper tier' category."
The EPA agrees, pointing out 2,614,200 acres would be designated upper tier in Alternative 4, with all eight of the national forests in Colorado included.
"The substantial additional upper tier acreage of Alternative 4 would provide greater protection of roadless characteristics and less opportunity for adverse impacts to air quality and aquatic resources," EPA wrote. "Therefore, we recommend expanding the preferred alternative to include additional upper tier acreage."
Environmentalists argue Idaho's roadless rule provides much more upper tier protection, but Colorado officials counter Idaho had less federal land protected as wilderness.
EPA also asked the Forest Service to conduct additional baseline air quality studies near communities that would be impacted by any road-building exemptions for mining, oil and gas drilling, logging or ski area expansion – especially nearly 20,000 acres exempted for coal mining along the North Fork of the Gunnison River.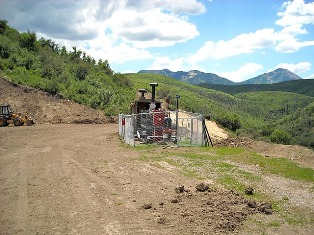 With the potential for leases that could ultimately recover up to 360 million tons of coal, EPA wants the USFS to "quantify and disclose projected annual and total lifetime cumulative greenhouse gas emissions, including emissions from combustion of the mined coal, resulting from potential future coal development."
Environmental groups have been battling to have federal land management agencies such as the Forest Service and BLM take into consideration the
venting of methane gas
from Colorado coal mines. Methane is 20 times more potent than carbon dioxide as a heat-trapping greenhouse gas.
EPA also wants the Forest Service to quantify the impacts of road building for tree removal, linear construction zones and ski resort expansion on wetlands in the state's national forests.
Finally, the federal agency is seeking more information on how road building might impact low-income and minority communities in and around national forest roadless areas – so-called "environmental justice" concerns.
"We recommend the FEIS [final environmental impact statement] include the process the USFS used to identify low income and minority communities as well as the potential direct, indirect and cumulative environmental impacts of roadless activities on these communities," EPA officials wrote.
The Colorado Roadless Rule has taken nearly six years to get to this point after the Bush administration allowed state-specific plans for managing federal roadless areas. Only Idaho and Colorado pursued their own rules, with the rest of the nation willing to wait out ongoing legal challenges to the 2001 Clinton Roadless Rule.
---

0 Comments on "EPA calls out USFS over greenhouse gas emissions, water quality concerns in Colorado Roadless Rule"
Be the first to comment below.