Colorado group battling 'environmental extremism' defends ExxonMobil in wake of Yellowstone oil spill
American Tradition Partnership downplays pipeline rupture, blasts Montana Gov. Brian Schweitzer
A moderate Montana Republican who says her bid for state lawmaker last year was torpedoed by the illegal campaign tactics of an anti-green, pro-drilling political group registered in Colorado has seen her ranch on the Yellowstone River near Laurel inundated with ExxonMobil oil.
Debra Bonogofsky filed an official complaint with the Montana Commissioner of Political Practices against a Colorado 501(c)4 called Western Tradition Partnership,
alleging the group
failed to properly register in Montana or post "paid for" notification on its attack mailers.
The executive director of the group, now called American Tradition Partnership (ATP), earlier this month flew to the site of ExxonMobil's Yellowstone River pipeline spill to praise the cleanup response by the oil and gas giant and to laud the efforts of state Rep. Dan Kennedy, the Laurel Republican who beat out Bonogofsky in last year's primary.
"State Rep. Dan Kennedy, whose home is at the center of the incident, should be commended for his efforts to coordinate response with the local community and involve local workers in the ongoing cleanup efforts," ATP Executive Director Donald Ferguson said in a press release. "I am very impressed with ExxonMobil's response to this [oil pipeline] release."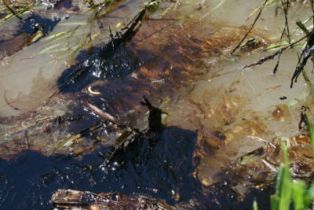 The Montana blogosphere and Bonogofsky's daughter Alexis, who works for the National Wildlife Federation and also runs goats on the family's riverfront ranch, are much less impressed with ExxonMobil's response and the actions of Kennedy.
"We're joining an ever-growing club of people affected by environmental disasters," Alexis Bonogofsky told the Colorado Independent earlier this month, accusing the company of
under-reporting the scope of the spill
. Democratic Gov. Brian Schweitzer later
blasted ExxonMobil
for allegedly misleading local residents and state officials.
Debra Bonogofsky said she attended an informational meeting of local residents, ExxonMobil and U.S. Environmental Protection Agency officials where Kennedy stood up and said, "Exxon's been great and they're really working hard to fix this."
"I felt like getting up and saying, 'You know Dan, you were one of the ones who
tried to gut
the Montana Environmental Protection Act and also wanted to put a nuclear facility in our backyards without people voting on it?" Debra Bonogofsky said. "Oh, it made me so angry."
ATP's Ferguson did not respond directly to requests for comment about the claims being made by the Bonogofskys, instead sending out a press release from the scene of the spill. He included this disclaimer at the end: "Donald Ferguson has paid for this trip out of his own pocket, and did not come at the request of any official or company."
Western Tradition Partnership was first registered by Colorado Republican operative Scott Shires in March of 2008 and has been involved in numerous controversial election campaigns in Colorado and across the Rocky Mountain West. Shires has been
hit with several fines
for campaign finance violations.
An employee of the Denver-based law firm of Hackstaff Gessler later re-registered Western Tradition Partnership. Hackstaff Gessler is the former firm of current Colorado Secretary of State Scott Gessler, a conservative election campaign lawyer who in the past has represented Shires. The name of the nonprofit was changed to American Tradition Partnership late last year, but it remains in good standing in Colorado and is still registered to an employee of Hackstaff Law Group LLC.
ATP, however, has a Pennsylvania Avenue address in Washington, D.C. listed on its website, and Ferguson's phone has a Virginia area code, leading to accusations it's an energy industry front group run by Washington lobbyists.
Colorado lawmakers late last year
considered filing
both an official complaint with Gessler's office against Western Tradition Partnership for its campaign tactics against state Sen. Gail Schwartz and running a bill to require greater campaign contribution disclosure requirements for 501(c)4 groups.
Ferguson threatened legal action
, and ultimately both efforts failed.
In Montana, former Montana Commissioner of Political Practices Dennis Unsworth last year
recommended civil penalties
against Western Tradition Partnership for its campaign tactics in several 2008 state legislative races. It's unclear what actions, if any, were taken by the Montana attorney general's office, although a state official says at least three attorneys are currently involved in the case.
"It was very damning what the commissioner said about [WTP], but I haven't heard anything since then. I don't think anything has been done, which is kind of shameful," Debra Bonogofsky said of Unsworth's ruling in the 2008 races. "And my case I don't think they've even gotten to yet, which is pretty typical too. A couple of years usually they've been running."
Mary Baker, program supervisor for current Commissioner of Political Practices David B. Gallik, referred all inquiries about the 2008 complaints to the AG's office, which did not respond in time for this article. Bonogofsky's
2010 complaint
(pdf) is still pending.
"As far as the Bonogofsky complaints," Baker said, "they are still under investigation and there is no timeline yet for completion. As I am sure you are aware, they are complicated cases."
ATP's Ferguson has filed his own counterclaims against Montana's Commissioner of Political Practices and the attorney general's office seeking to have all complaints against WTP dropped.
---

1 Comment on "Colorado group battling 'environmental extremism' defends ExxonMobil in wake of Yellowstone oil spill"