Wildlife officers shoot, kill bear that bit teenager camping near Leadville
Wildlife officials killed a bear believed to be involved in an unprovoked attack that injured a teenage camper in his tent early Friday morning near Leadville. Colorado Parks and Wildlife officials said the incident began at 3:30 a.m. when the teen was awakened as the black bear bit into his leg.
The victim fought off the bear and other campers scared the bear out of the area. Hundreds of campers are in the Twin Lakes area for the Colorado Bowhunters Association annual Jamboree.
"We manage wild bears for a healthy and thriving population," said Dan Prenzlow, Regional Manager for Wildlife with Colorado Parks and Wildlife. "But when an individual bear enters a tent and attacks a sleeping person, we manage that animal to protect the public safety."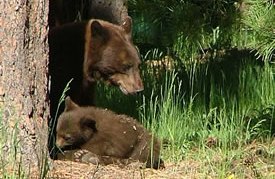 Responding wildlife officers interviewed the victim at an area hospital where he was treated and released for deep lacerations on his leg and then released. Officers then inspected the campsite to determine what might have lead to the attack. The bear had apparently ransacked a cooler outside the tent in the adjacent area of the camp prior to the attack. However officers said there was nothing was found in the tent that would explain the bear's actions.
Officers called for tracking assistance from USDA Wildlife Services, who responded with 10 tracking dogs to the attack site. As temperatures cooled from the heat of the day, tracking dogs were able to establish a scent trail and discovered a 200-pound, male black bear matching the description of the offending bear within three quarters of a mile of the attack site. The bear was put down shortly before 7 p.m.
The teenage victim is expected to recover but will receive follow up treatment for the injuries.
Campers are reminded that food items should be securely stored in bear-proof containers or kept in the locked trunk of a vehicle. Additional tips for camping in bear country can be found online here.
---

2 Comments on "Wildlife officers shoot, kill bear that bit teenager camping near Leadville"