Udall ski area summer activity bill passes out of Senate Energy and Natural Resources Committee
Sen. Mark Udall, D-Colo., saw two of his public lands bills pass out of the Senate Energy and Natural Resources Committee today and head for a full vote of the Senate. One bill focuses on summer and off-season activities at ski areas on leased federal land, and the other is a land exchange with the Forest Service that will allow the Boulder County Fire District to expand two of its fire stations.
The Ski Area Recreational Opportunity Enhancement Act would allow the Forest Service to issue permits for "appropriate year-round recreational activities beyond the alpine and Nordic skiing already allowed in ski areas on public lands." Mountain biking, concerts and other activities would be officially permitted to help ski areas maintain year-round business.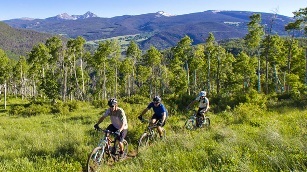 "Colorado's ski communities have long asked for help to boost their off-season economies, which are hampered by an outdated law that restricts the types of recreation they can offer to tourists and locals," Udall said in a release. The senator saw a
similar bill
pass out of committee last year only to have it die on the Senate floor.
The
Sugar Loaf Fire Protection District Land Exchange Act
would facilitate the acquisition of the federal land beneath two of the three fire stations in unincorporated Boulder County, where last year's
Fourmile Canyon Fire
was the most costly in terms of property damage in state history. The fire district has not been able to work out a land exchange with the Arapaho-Roosevelt National Forest and needs to expand and upgrade the facilities.
"Sugar Loaf Fire District is on the frontline of protecting people and homes from potentially devastating fires; they shouldn't have to be distracted by settling a protracted land dispute," Udall said. "Both of my bills try to offer smart solutions that make sense for these communities, and I'm proud they now have a chance to get before the Senate."
For video of today's committee hearing, click
here
.
---

2 Comments on "Udall ski area summer activity bill passes out of Senate Energy and Natural Resources Committee"