Colbert scorches natural gas industry in anti-fracking satirical skit
Stephen Colbert satirically skewered Talisman Energy's "Talisman Terry" coloring book character Monday night, following the sad tale to its conclusion with the loveable "frack-osaurus" ultimately lighting himself on fire in a natural-gas-contaminated shower scene.
Colbert took aim at Talisman and its 145 violations for various fracking infractions in a skit on the controversial natural gas drilling process of hydraulic fracturing. The company's coloring book has been widely lampooned for trying to sell the drilling technique, which critics say can contaminate groundwater, to kids. It's the gas patch equivalent of Joe Camel.
Pointing out Terry is advocating the drilling and burning of the remains of his "violated ancestors," Colbert shows us the rest of the coloring book, with Terry ultimately blowing himself up in a gas-contaminated shower after driving home in a car powered by the ghost of his grandmother.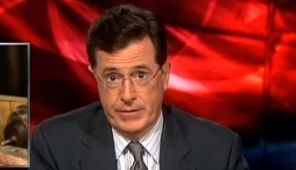 Colbert was hitting on fracking in response to the recent debate surrounding New York Gov. Andrew Cuomo's decision to pursue partially lifting the hydrofracking ban in that state. The Comedy Central host also couldn't resist commenting on Cuomo's recent signing of New York's same-sex marriage law.
"He just signed a bill saying gay couple could legally frack each other … why can't energy company's drill in our backyards?" Colbert quipped.
Hydraulic fracturing involves injecting a high-pressure cocktail of water, sand and undisclosed – but in some cases toxic – chemicals deep into the ground to fracture the earth and free up more gas. Here's Colbert's colorful and hilarious description of the process: "It's like giving the earth an Alka-Seltzer, if the Alka-Seltzer shattered your internal organs so that oil companies could harvest your juices."
With Colbert now ripping the industry for such transparent attempts to gloss over the dangers of fracking, the debate has clearly entered the mainstream. It's been a fringe topic in Colorado and other natural gas hotbeds for years, but the boom in the Marcellus Shale of New York and Pennsylvania has made the process a hot national topic.
View the entire "Colbert Report" segment here:
---

1 Comment on "Colbert scorches natural gas industry in anti-fracking satirical skit"