Common Cause to protest conservative Koch brothers confab Sunday in Avon
Colorado Common Cause will hold a rally Sunday in Avon to protest a Vail Valley retreat this weekend set up by conservative political donors Charles and David Koch.
The Koch brothers, owners of the Wichita, Kansas-based energy conglomerate
Koch Industries
, fund numerous right-wing causes and candidates and have
spent millions
seeking to roll back environmental protections and strip away regulations for the energy and mining sectors.
Colorado Common Cause today issued a release saying it will join with labor organizations and other progressive groups to "protest against oil/corporate billionaires Charles and David Koch's efforts to control the nation's future by spending hundreds of millions of dollars in secret money" on campaign ads.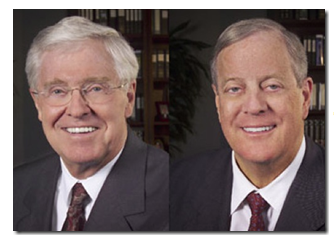 The protest is set for 11 a.m. to 1 p.m. Sunday by the lake in Avon's Nottingham Park. There has been no official confirmation that the twice-a-year Koch retreat will be held this weekend at the Ritz-Carlton, Bachelor Gulch – which recently went into
foreclosure protection
-- or whether it will be held at some other Vail Valley location. Several websites have reported the event will be at the Ritz.
Common Cause, however, seems fairly certain the event will at least be in the Vail area, planning its protest in Avon "because American voters deserve to know who is behind the ugly political ads." Avon is 10 miles to the west of Vail at the base of gated Beaver Creek Resort, which hosts the annual
AEI World Forum
conservative think tank.
On Wednesday, Virginia Gov. Bob McDonnell released his schedule, which said he would be attending the Koch seminar Sunday in the Vail area. Last year the Kochs held a
retreat at the St. Regis in Aspen
.
The relentless lobbying by the Kochs to rein in the EPA and strip away regulations for domestic energy production come at a time when pressure is building to increase state and federal oversight of oil and gas production in Colorado, where the Colorado Oil and Gas Conservation Commission (COGCC) has a
backlog of drilling fluid spill
enforcement cases.
Two oil and gas companies responsible for major spills of hydraulic fracturing fluids and other drilling fluids into Garden Gulch on the Roan Plateau of Colorado's Western Slope in 2008 have reached settlement agreements with the state for fines totaling $316,350. The spills occurred in Garfield County just to the west of Eagle County, where the Koch retreat will take place.
Marathon Oil, which admitted to a release of more than 1.2 million gallons of fracking fluids into the Parachute Creek tributary, which ultimately empties into the Colorado River, has agreed to a fine of $143,350, according to the Colorado Oil and Gas Conservation Commission (COGCC).
Berry Petroleum, which spilled more than 100,000 gallons of drilling fluids into Garden Gulch, has agreed to a fine of $173,000. Berry failed to report initial spills in late 2007, but finally did self-report in early 2008.
The Garden Gulch spills, which formed a spectacular but tainted frozen icefall, are part of a state backlog of old enforcement cases. There will still be 12 cases more than a year old if the COGCC board approves the settlements at next week's monthly hearing in Kiowa. Regulators have been making steady progress this year in dealing with old enforcement matters.
Meanwhile, Colorado's Republican members of Congress continue to float bills aimed at curtailing the authority of the EPA and
opening up more domestic energy production
, including in the Arctic Ocean off the coast of Alaska.
---

183 Comments on "Common Cause to protest conservative Koch brothers confab Sunday in Avon"