Old hydraulic fracturing fluid spill cases finally drawing fines after more than three years
In early 2008, two separate releases of hundreds of thousands of gallons of chemically laced hydraulic fracturing fluid and other natural gas drilling fluids spilled into Garden Gulch on the Roan Plateau north of Parachute, forming a spectacular frozen icefall of contaminated water.
Nearly three and a half years later, the Colorado Oil and Gas Conservation Commission (COGCC) – the state regulatory agency that oversees oil and gas drilling to protect public health and the environment – has finally struck a deal with the two companies responsible for the spills and will likely levy fines at a hearing next week.
There was never really a question of which companies spilled the fluids (both Berry Petroleum and Marathon Oil admitted responsibility), nor was the seriousness of the situation ever in doubt (chemicals flowed into Parachute Creek and ultimately into the Colorado River, prompting concern from ranchers and state wildlife officials). The only real question is why it took so long for fines to be handed down.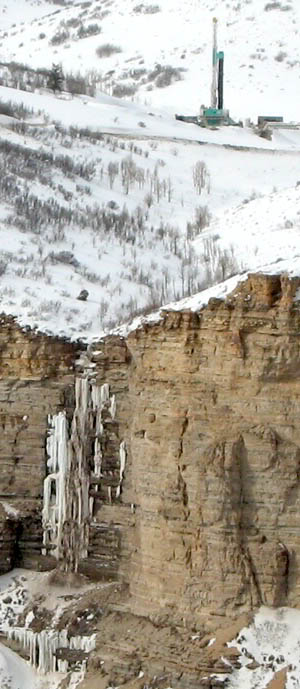 "The bottom line here is justice delayed is justice denied because the fines are inconsequential to most of the companies," said Steve Torbit, regional executive director for the National Wildlife Federation. "Whose interest is served by delay, delay, delay? Is the public interest served? Absolutely not. So I would argue that the COGCC is not doing its job. They are not protecting the variety of public interests and it works to industry's advantage."
Torbit argues the initial outrage sparked by Garden Gulch faded over time as media coverage waned, allowing oil and gas operators to quietly strike backroom deals with state regulators that are largely off the public radar.
"Delaying the justice distracts and makes the public picture very fuzzy so the public is out of the loop to a large degree and unable to say [the COGCC] is serving the public interest," Torbit said. "People lose track of things; it's quietly resolved."
But even industry representatives were caught off-guard by the amount of time it took the state to resolve these fairly straight-forward enforcement actions.
"We were a little surprised to receive the (hearing) notice after more than three years had lapsed since we last communicated with the commission," Davis O'Connor, Berry Petroleum vice president and general counsel,
told the Grand Junction Daily Sentinel
last month.
While
testing by the companies
and regulators did not find dangerous levels of chemicals resulting from the spills – more than 100,000 gallons of drilling fluids by Berry and more than 1.2 million gallons of hydraulic fracturing fluid by Marathon – those tests came more than two months after the initial spills and were conducted during peak spring runoff. Still, the companies admitted their guilt and took steps to mitigate the impacts.
And unlike the case of Prather Springs, in which local outfitter Ned Prather guzzled benzene-laced water from his cabin's drinking water well, the Garden Gulch spills didn't require extensive investigation to determine which operator was responsible. Prather Springs, also in 2008, resulted in a record $
423,000 fine against Williams
, breaking the old state mark of $390,000 levied against Oxy USA last year in the Cascade Canyon spill.
COGCC Executive Director David Neslin last week declined to discuss specifics of the deals worked out with Berry and Marathon, including possible fine amounts, but did say he hopes to release the terms of proposed final settlement agreements later this week. He said the Garden Gulch spills have taken so long to resolve because of an overall backlog of enforcement matters, not the complexity of the investigations.
"It's a question of working through other matters in the queue," Neslin said. "Enforcement cases generally involve significant effort to investigate the alleged violations, to negotiate with the operators, to prepare necessary documentation. They're time-intensive, so I don't think it was a question of these two cases being particularly difficult but these two cases being part of a backlog of enforcement matters that have consumed substantial time and effort in the past year."
In an
interview with the Colorado Independent last year
, Neslin said the backlog was unacceptable and that steps had been taken to resolve old cases as quickly as possible. Neslin in the past said staffing shortages were at least partly to blame, but he added that changes had been implemented to make enforcement the agency's top priority in 2010.
In an interview in April, Neslin set a target of resolving all enforcement cases more than one year old by the end of June. At the beginning of the current fiscal year (July 1, 2010) the COGCC had 48 enforcement cases that were more than a year old – some of them dating back to 2006.
As of the last hearing in May, 31 of those cases had been dealt with, and Neslin said the agency hopes to resolve five more – including the two Garden Gulch cases – at the June hearing. That leaves 12 unresolved cases that are more than a year old, and Neslin said the COGCC hopes to resolve eight of those by the August meeting.
"I agree that we need to make better progress and we need to be more timely in our enforcement actions where we can, and that's something we're working hard at doing," Neslin said. "I think we've made good progress over the past year. We're not yet where we want to be, but we're much closer than we were a year ago."
Neslin says focusing on enforcement and prevention of spills – including pit liner and pipeline leaks and faulty cement casings of natural gas wells – will
do more to protect the environment
than proposed federal legislation that would require national disclosure of the chemicals used in hydraulic fracturing, or fracking. That's been a push by Colorado Congresswoman Diana DeGette and her Fracturing Responsibility and Awareness of Chemicals (FRAC) Act.
---

0 Comments on "Old hydraulic fracturing fluid spill cases finally drawing fines after more than three years"
Be the first to comment below.