Independent group to scrutinize Colorado's hydraulic fracturing rules for oil and gas companies
Colorado's rules governing the controversial natural gas drilling process of hydraulic fracturing, or "fracking," will be on the hot seat Thursday during an independent review that includes a public meeting in Denver.
Scheduled for 8 a.m. at the Colorado State Land Board offices at 1127 Sherman St. (Suite 200), the review will be conducted by a group called
STRONGER
, which stands for State Review of Oil & Natural Gas Environmental Regulations.
The review panel is made up of one industry representative, one state regulator and one member of the environmental community. The group will summarize its review and issue a written report, including any recommended improvements to the Colorado Oil and Gas Conservation Commission (COGCC) rules, within 60 to 90 days. That report will be made available to the public.
The public is also welcome to attend Thursday's meeting, although there will be no public comment or questioning. Instead, the COGCC will provide an overview of its regulations governing fracking and then STRONGER members will question COGCC staff members.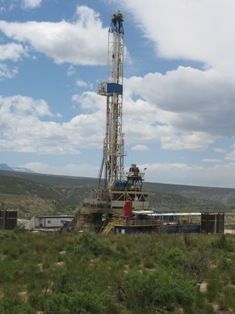 "They [STRONGER] go around and do audits of state oil and gas regulatory programs, and they have guidelines for what they believe an appropriate regulatory program should have from an environmental and health and safety standpoint," said COGCC Executive Director David Neslin. "They have been doing reviews focused on hydraulic fracturing for the last six, nine months beginning last summer."
So far, STRONGER has conducted reviews of the fracking rules in Oklahoma, Ohio, Louisiana and Pennsylvania.
Fracking involves injecting water, sand and undisclosed chemicals under very high pressure deep into natural gas wells in order to fracture tight geological formations and free up more gas. The process has been blasted by critics who claim it can lead to the contamination of groundwater supplies, although industry officials insist it's safe and say they must keep their chemical formulas secret for proprietary reasons.
A congressional investigation earlier this year found 29 known human carcinogens being used in fracking fluids, adding to growing public concern over the process. Increasingly, states are seeking voluntary disclosure of the chemicals used in the process, and Colorado rules call for a list of chemicals to be kept onsite at drilling operations and made available to emergency responders and state regulators within 24 hours upon request.
A handful of states have rules on the books compelling some level of public disclosure of fracking chemicals, although critics say even those regulations have loopholes, according to a recent story by ProPublica. Colorado Congresswoman Diana DeGette has once again introduced the Fracturing Responsibility and Awareness of Chemicals (FRAC) Act, which would require public disclosure of fracking chemicals nationally.
But the COGCC's Neslin says disclosure of fracking chemicals won't solve the biggest problems facing regulators, including pit and pipeline leaks and bad cement casing jobs. Some of the biggest fines against drilling companies have been handed down because of those issues, which he insists should be the focus of enforcement operations.
However, operations associated with fracking, including storing fluids in holding pits for re-use, have led to major spills. The state is expected to levy fines later this month against Marathon Oil for spilling more than 1.2 million gallons of fracking fluid into Garden Gulch on the Roan Plateau in 2008.
Thursday's three-person STRONGER review panel will be comprised of Lori Wrotenbery, director of the Oil and Gas Conservation Division of the Oklahoma Corporation Commission; Wilma Subra, a Louisiana environmental scientist; and Jim Collins, a petroleum engineer for the Independent Petroleum Association of America.
A three-person team of official observers will be made up of Tom Maunder, petroleum engineer for the Alaska Oil and Gas Conservation Commission; Bruce Baizel of Earthworks; and Ken Wonstolen of Beatty & Wozniak, a Denver-based energy and environmental law firm.

---

115 Comments on "Independent group to scrutinize Colorado's hydraulic fracturing rules for oil and gas companies"