Arson 'a strong possibility' in fire that caused extensive damage at West Vail condo complex
Arson is "a strong possibility" as the cause of fire that damaged a four-plex in West Vail Thursday afternoon, a Colorado Bureau of Investigations official told Real Vail Friday morning.
The blaze erupted in a top-floor unit of 2458 Garmisch Drive at about 2:45 Thursday afternoon, with an explosion waking up the sleeping occupant of an adjacent unit who managed to escape out a window, Vail officials said.
There were no deaths or injuries, and no damage estimate was available Friday afternoon. The CBI investigator provided no additional details as far as possible suspects. A dog had to be rescued from one of the lower-floor units.
Vail firefighters used a chainsaw to cut two holes in the roof of the four-plex so they could check for fire in the attic area.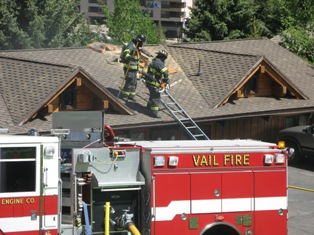 Here's the official press release from the Town of Vail:
At approximately 2:45 p.m. Thursday (June 9) a structure fire was reported in the West Vail area. No initial address was given, but crews immediately saw visible smoke in the Garmisch Drive area. An engine responded from Station 3 (West Vail) as well as a ladder truck from Station 2 (Main Vail). Eagle River Fire Protection District also responded. The confirmed address was 2458 Garmisch Drive, a four-plex.
Crews reported visible smoke while en route and upon arrival reported a working structure fire and immediately went into the fire attack mode. A neighbor was attempting to extinguish the fire on the exterior of the home off the rear deck with a garden hose. Crews were able to get the fire under control in approximately 20 minutes after arrival. The fire did extensive damage to the exterior (rear) of the home, as well as some smoke damage and structural damage to the interior. Crews had to cut two ventilation holes into the roof to check for extension in the attic area as well.
No occupants were at home in the unit that caught fire; however, an occupant in one of the adjacent units was sleeping and was awakened when he heard "an explosion." He was able to escape out a bedroom window. There were no injuries, although crews did rescue a dog that was in one of the adjacent units in the complex. The dog was uninjured.
Approximate response time from Station 3 was 1-minute 45 seconds, not including dispatch processing time and turn-out time. The cause of the fire is under investigation. No damage estimates are available at this time.

---

48 Comments on "Arson 'a strong possibility' in fire that caused extensive damage at West Vail condo complex"