Eagle River Preserve now open to public as county commissioners set to review Homestead plan
The Eagle River Preserve is now open to the public from dawn to dusk daily following a closure to give some space to winter wildlife and also the installation of a pond liner this spring. County officials are offering some tips for using the 72-acre parcel acquired with $6 million from the open space tax fund and $6 million in public contributions:
• Stay on established paths. The vegetation is still young and developing. Be especially mindful of sensitive vegetation along the river bank.
• Dogs should be kept on a leash, except when in the designated dog area.
• Pack out personal trash and any litter found. Trash containers are provided at the parking area.
• Review posted signs and rules.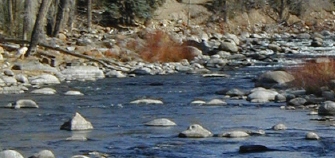 The Eagle River Preserve includes approximately 72 acres west of downtown Edwards. The former gravel pit will be available for complete public access upon completion of the restoration. Phase one is complete and includes a walking trail, benches, an off-leash dog area, access to the Eagle River for fishing and a small pond. For more information on the Eagle River Preserve, go to the
Eagle County website
.
In other open space news, the Eagle County Board of Commissioners on Tuesday will consider approval of a memorandum of understanding (MOU) with the Homestead Owners Association regarding the East Lake Creek Ranch property, located between the Homestead and Creamery Ranch subdivisions in Edwards.
The meeting will take place at 9 a.m., June 14, in the Eagle County Room in the Eagle County Building at 500 Broadway in Eagle. The meeting will also be aired live on ecotv18 and streamed live and archived at
www.ecotv18.com
. All interested community members are encouraged to attend.
If approved, the MOU would provide a framework for developing formal agreements that will preserve the East Lake Creek Ranch and portions of Homestead property; accommodate public use of the ranch consistent with the county's open space goals and objectives; further conserve and grant public access across portions of Homestead land; and provide for maintenance of and improvements to the East Lake Creek Ranch property and any public access easements.
Future agreements will be required, including access easements, conservation easements and maintenance agreements.
Eagle County entered into a purchase agreement for the 160-acre East Lake Creek Ranch property in February. The contract is for $3.25 million and provides a condition for obtaining a recommendation from the Open Space Advisory Committee for funding through the county's dedicated Open Space Fund, as well as fundraising by the Eagle Valley Land Trust. The purchase agreement sets the closing for late summer.
To comment in advance of Tuesday's meeting, click
here
and choose "Comment on this agenda" or call (970) 328-8605.
---

50 Comments on "Eagle River Preserve now open to public as county commissioners set to review Homestead plan"