Wildfire, flooding risk pose rare simultaneous threat throughout Colorado
The combination of an enormous mountain snowpack that's just starting to melt and suddenly hot, summer-like temperatures and high winds has first responders across Colorado nervously eyeing both swollen waterways and tinder-dry forests and grasslands.
Gov. John Hickenlooper Thursday issued an emergency disaster declaration for the Bear and Purgatoire fires, which have each burned more than 6,000 acres in Las Animas County near the New Mexico border. Another small fire flared up in Colorado's high country Thursday, singeing several acres near a logging operation in Keystone Gulch.
The June wildfires after an early fire season in March are signs that the above-average precipitation that finally dampened Colorado's drought-plagued Front Range this spring and continued to increase the record snowpack in the mountains could quickly give way to another intense period of wildfires if hot temperatures and high winds persist.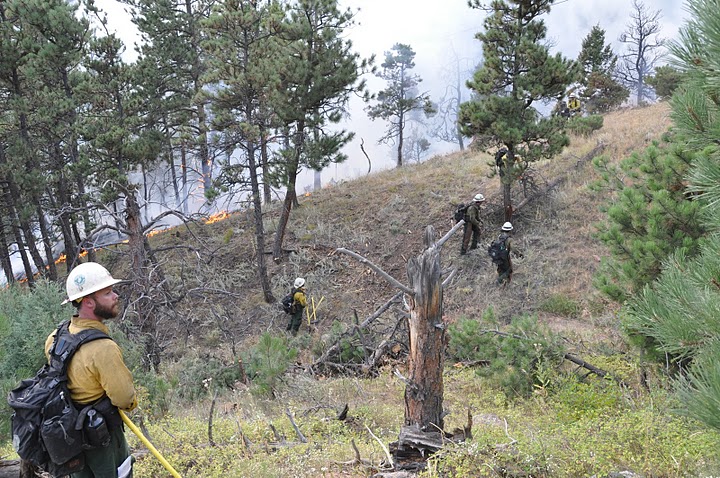 "You look out there and say, 'Gosh, how could it burn; it just snowed like a week ago?'" said Vail Fire Chief Mark Miller. "But in essence this does create this false sense of security, and if we had a week of really high temperatures and high winds, we'd be right back into a
red flag warning
on a continuous basis."
Miller has a four-man crew fanning out this week to continue a five-year project to thin a few hundred feet of "defensible space" around the town – just to give firefighting crews a place to battle any blaze that gets going in the beetle-kill forests surrounding Vail.
Meanwhile, the snowpack in the Colorado River Basin and many other drainages around the state stands at more than 200 percent of the annual average for this time of year, prompting state officials to sound a collective cautionary alarm on Thursday.
Colorado Water Conservation Board (CWCB) and Colorado Division of Wildlife officials are warning anglers, boaters, property owners and anyone else who will listen to exercise extreme caution as the temperatures rise and all that snow starts to melt.
"This weekend we expect the highest water so far this year," said Kevin Houck, a flood engineer with the Colorado Water Conservation Board. "There may be a cooler period next week, but then it's very likely the water will go back up and we may see a second peak that's higher than the first."
According to the CWCB, the watersheds causing the greatest concern on the Western Slope are the Yampa River, Elk River, Colorado River, and the North Platte River. Flood advisories have been posted for Mesa, Moffat, Routt, Grand and Jackson Counties, with
more expected
. Lake County is also on a watch list.
East of the Continental Divide on Colorado's Front Range, the biggest areas of concern are the Cache La Poudre River, the Big Thompson River and Clear Creek.
"I've seen guys wading into shallow water step right off the bank of the stream not knowing it was there and be totally submerged," said CDOW Area Wildlife Manager Jim Haskins of Steamboat Springs. "In a year like this, it pays to be
extra, extra careful
."
---

37 Comments on "Wildfire, flooding risk pose rare simultaneous threat throughout Colorado"