Udall to promote summer outdoor recreation bill at Teva Games in Vail today
Sen. Mark Udall, D-Colo., is hitting the road in Colorado today, visiting New Earth Pellets in Silver Plume – a company making wood pellets for pellet stoves out of beetle-killed pine trees – and the Teva Mountain Games in Vail.
With a mountain biking competition on Vail Mountain as the backdrop, Udall will be promoting a summer ski area recreation bill he introduced to expand the types of outdoor recreation allowed at ski areas that are typically located on leased U.S. Forest Service land. Udall, who tried
similar legislation last session
, says the bill is needed to ensure a more year-round economy at the state's ski resorts.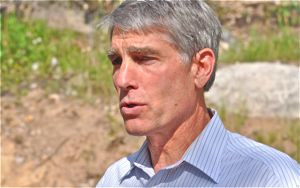 Also today, Udall will visit the new Walking Mountains Science Center in Avon, which will offer field-based natural science programs to more than 6,000 Eagle County school children.
Udall has a long track record of floating environmental and clean-energy legislation. Earlier this week he introduced a bill that would allow the Department of Energy to insure the value of solar panels and other renewable energy systems leased by homeowners.
Udall says the Renewable Energy Access through Leasing (REAL) Act would be paid for by charging premiums for companies to participate in the insurance program and would come with zero cost to taxpayers.
Co-sponsored by Sens. Sheldon Whitehouse, D-R.I., and Lamar Alexander, R-Tenn., the REAL Act is aimed at solving the problem of high upfront costs for installing residential solar and other home renewable energy projects.
"The REAL Act is a creative, bipartisan solution to cutting the prohibitive costs of greening Colorado homes by offering wider leasing options for residential projects," Udall said in a release.
"Making renewable energy more affordable for more Coloradans shifts our country's reliance on fossil fuels toward cleaner sources that create lasting jobs within our state's burgeoning renewable energy industry and pump dollars directly into our economy," he added.
Udall will be at Golden Peak in Vail from noon to 12:30 and at Walking Mountains in Avon from 2:15 to 2:45.
---

45 Comments on "Udall to promote summer outdoor recreation bill at Teva Games in Vail today"