Udall says politics impeding progress on energy policy as Wyo. Sen. Barrasso floats bill to remove drilling barriers
Just two days after the U.S. Senate
rejected a bill
that would have ended billions in tax breaks and subsidies for the nation's top oil and gas companies, Sen. John Barrasso, R-Wyo., this week introduced a bill aimed at "removing barriers to American onshore oil and natural gas production."
Barrasso's
American Energy and Western Jobs Act (pdf
) is co-sponsored by Republican Sens. Mike Enzi of Wyoming and Orrin Hatch and Mike Lee of Utah. It would require U.S. Interior Secretary and former Colorado Sen. Ken Salazar to set oil and gas production goals for federal lands and repeal his onshore leasing reforms from last year as well as this year's Wild Lands Order, which seeks to identify U.S. Bureau of Land Management (BLM) lands appropriate for wilderness protection.
Critics, including
Republican members of Colorado's congressional delegation
, have blasted Salazar's Wild Lands plan, calling it a federal land grab that would shut down oil and gas production around the West. But conservation groups point to the economic benefits of wilderness areas in terms of hunting, fishing, outdoor recreation and tourism, countering that the oil and gas industry is
sitting on huge swaths
of leased but undrilled public lands.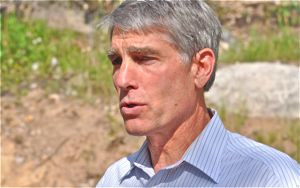 "Higher energy costs continue to make it harder for families across the country to make ends meet," Barrasso said in a release. "The federal government controls vast energy resources in the Western United States. Responsible energy exploration in the West will create American jobs and promote American energy security. In order to increase energy production, we must streamline the process and repeal this administration's policies that are making the pain at the pump worse."
Barrasso's stance couldn't be more divergent from the positions of his Senate colleagues in neighboring Colorado, where Democrats Mark Udall and Michael Bennet voted to end subsidies for big oil. Both argue that removing environmental hurdles for companies drilling on public lands won't lower the price at the pump or significantly promote energy independence.
"Like most Americans, I'm frustrated that once again politics are getting in the way of progress," Udall said in a floor speech before Tuesday's vote on subsidies. "I'd much rather that we be debating a comprehensive energy policy this week that includes a renewable electricity standard, promotes energy efficiency and encourages responsible development of domestic resources like safe nuclear power and natural gas."
A group calling itself Taxpayers for Common Sense recently launched an ad campaign against Republican Colorado Reps. Scott Tipton and Cory Gardner demanding they support ending tax breaks for the nation's top oil and gas companies, which pulled in a record $32 billion in first quarter profits this year as gas prices have soared to more than $4 a gallon.
"We need to move beyond partisan fights and blame games," Udall said. "Instead, we need to work toward what we all can agree are key priorities: developing energy that brings affordable prices to American families and businesses; building a sustainable long-term energy future; and doing it in a way that protects our clean air and water for future generations."
Besides other measures aimed at streamlining the leasing process for companies looking to drill on federal lands, Barrasso's bill also would force an immediate lease sale for oil shale development in Colorado, Utah and Wyoming and implement the Bush administration's 11th-hour oil shale leasing rules. Oil shale proponents say Salazar has been slowing a process they admit is still at least a decade away from ever producing oil.
Critics, including Udall, say oil shale production requires far too much scarce Western water and will industrialize large areas of northwestern Colorado.
"Sen. Barrasso intends to let the oil and gas industry get whatever they want, whenever they want. Ending common sense protections for our air and water would make American families pay the price," said Matthew Garrington, Denver-based deputy director of the Checks & Balances Project. "Big Oil reported $32 billion in profits last quarter, but that doesn't seem to be enough for Sen. Barrasso."
---

33 Comments on "Udall says politics impeding progress on energy policy as Wyo. Sen. Barrasso floats bill to remove drilling barriers"