Construction worker discovers Ice Age camel teeth in Snowmass Village
SNOWMASS VILLAGE — It's hard to believe camels ever grazed these slopes but the latest discovery in a splendiferous Ice Age dig in this ski resort suggests that's precisely what happened.
A Gould Construction worker sifting through sediment removed from the dig site uncovered the two-inch lower molar of a camelops, which is an extinct genus of camel that disappeared 10,000 years ago.
It is the newest find in a mother lode of prehistoric bones uncovered during a reservoir expansion project last fall that has yielded a spectacular prehistoric
ecosystem
nearly perfectly preserved in peat.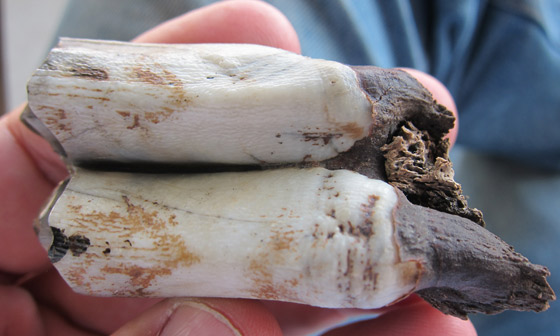 To date, as many as 10 American mastodons, four Columbian mammoths, two Ice Age deer, four Ice Age bison, a Jefferson's ground sloth, a tiger salamander, insects, snails, and large quantities of plant matter have been recovered from what scientists say is the most significant find in Colorado history.
The extinction of the camelops coincided with a massive die-off of mastodons and other large North American animals at the end of the Pleistocene period. Roughly seven feet at the shoulders, the species is slightly taller than modern camels and scientists say it is unclear whether the camelops possessed a hump or went without one like its other relative, the llama. It is believed to have been an herbivore.
The Denver Museum of Nature & Science held a press conference Tuesday in Snowmass Village to announce that its huge paleontological crew is back on the job digging and sifting through dirt for the next seven weeks before it hands the site back over to the Snowmass Water and Sanitation District.
The first radiocarbon tests of the silt layers at the bottom of the reservoir, where many of the fossils have been found, are at least 43,500 years old, according to the Denver Museum of Nature & Science.
Paleontologists on the ground also reported this week that they have unearthed the rare radius bone of the giant Jefferson's ground sloth, as well as a humerus, or upper arm, and vertebrae of a mastodon.
---

526 Comments on "Construction worker discovers Ice Age camel teeth in Snowmass Village"